Ashmore Group (AJMPF) Earns Buy Rating from Analysts at Berenberg Bank
Equities research analysts at Berenberg Bank assumed coverage on shares of Ashmore Group (OTCMKTS:AJMPF) in a research report issued to clients and investors on Thursday. The brokerage set a "buy" rating on the financial services provider's stock.
Separately, Zacks Investment Research raised shares of Ashmore Group from a "hold" rating to a "buy" rating and set a $5.00 price target for the company in a research note on Tuesday, April 11th. Two research analysts have rated the stock with a sell rating, two have given a hold rating and three have given a buy rating to the stock. Ashmore Group currently has a consensus rating of "Hold" and a consensus price target of $5.00.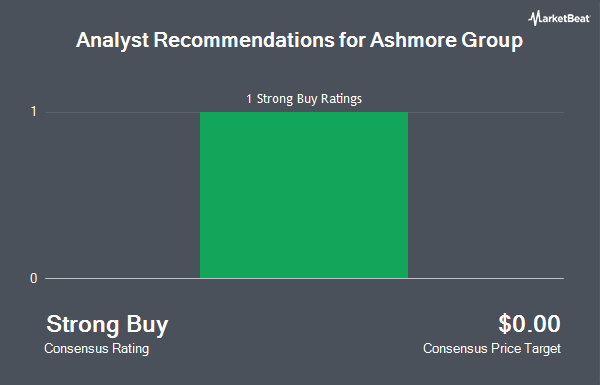 Ashmore Group (OTCMKTS AJMPF) remained flat at $4.49 during mid-day trading on Thursday. The firm has a 50 day moving average of $4.57 and a 200 day moving average of $4.13. Ashmore Group has a 52-week low of $3.34 and a 52-week high of $4.87. The firm has a market capitalization of $3.00 billion and a price-to-earnings ratio of 13.73.
ILLEGAL ACTIVITY WARNING: This report was published by American Banking News and is the sole property of of American Banking News. If you are viewing this report on another publication, it was copied illegally and reposted in violation of international copyright & trademark legislation. The original version of this report can be read at https://www.americanbankingnews.com/2017/06/15/ashmore-group-ajmpf-earns-buy-rating-from-analysts-at-berenberg-bank.html.
Receive News & Ratings for Ashmore Group Daily - Enter your email address below to receive a concise daily summary of the latest news and analysts' ratings for Ashmore Group and related companies with MarketBeat.com's FREE daily email newsletter.