Short Interest in On Track Innovations Ltd (OTIV) Declines By 3.1%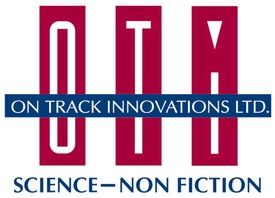 On Track Innovations Ltd (NASDAQ:OTIV) was the recipient of a large decline in short interest during the month of May. As of May 31st, there was short interest totalling 102,750 shares, a decline of 3.1% from the May 15th total of 106,004 shares. Based on an average daily trading volume, of 52,755 shares, the short-interest ratio is currently 1.9 days.
An institutional investor recently raised its position in On Track Innovations stock. Renaissance Technologies LLC raised its position in shares of On Track Innovations Ltd (NASDAQ:OTIV) by 17.7% during the first quarter, according to its most recent disclosure with the SEC. The firm owned 819,300 shares of the technology company's stock after buying an additional 123,500 shares during the period. Renaissance Technologies LLC owned approximately 1.99% of On Track Innovations worth $1,352,000 as of its most recent SEC filing. Institutional investors own 5.55% of the company's stock.
On Track Innovations (NASDAQ OTIV) opened at 1.26 on Friday. On Track Innovations has a 1-year low of $0.86 and a 1-year high of $2.09. The stock's market capitalization is $51.78 million. The company's 50 day moving average is $1.35 and its 200-day moving average is $1.52.
On Track Innovations (NASDAQ:OTIV) last issued its earnings results on Wednesday, May 10th. The technology company reported ($0.02) EPS for the quarter, missing the Zacks' consensus estimate of ($0.01) by $0.01. The business had revenue of $4.02 million during the quarter, compared to analyst estimates of $5.08 million. On Track Innovations had a negative net margin of 4.08% and a negative return on equity of 19.26%. Analysts forecast that On Track Innovations will post ($0.02) earnings per share for the current fiscal year.
Separately, Zacks Investment Research cut shares of On Track Innovations from a "hold" rating to a "strong sell" rating in a research note on Tuesday, May 16th.
COPYRIGHT VIOLATION WARNING: This news story was originally reported by American Banking News and is owned by of American Banking News. If you are accessing this news story on another website, it was copied illegally and republished in violation of US and international trademark and copyright legislation. The original version of this news story can be accessed at https://www.americanbankingnews.com/2017/06/16/short-interest-in-on-track-innovations-ltd-otiv-declines-by-3-1.html.
On Track Innovations Company Profile
On Track Innovations Ltd. is a developer of cashless payment solutions. The Company's segments include Retail and Mass Transit, Petroleum, Parking and Other. The Company offers solutions for banking, mobile network operators, vending, mass transit, petroleum and parking. The Company provides its customers with training and installation support, customer service and technical support.
Receive News & Ratings for On Track Innovations Ltd Daily - Enter your email address below to receive a concise daily summary of the latest news and analysts' ratings for On Track Innovations Ltd and related companies with MarketBeat.com's FREE daily email newsletter.