Teck Resources Ltd (TECK.B) Price Target Lowered to C$38.00 at Scotiabank
Teck Resources Ltd (TSE:TECK.B) had its price target decreased by Scotiabank from C$38.50 to C$38.00 in a research note issued to investors on Monday, StockTargetPrices.com reports. The firm presently has an "outperform" rating on the stock.
Several other equities research analysts have also recently commented on TECK.B. CSFB began coverage on Teck Resources in a research note on Thursday, April 13th. They set an "outperform" rating for the company. TD Securities dropped their target price on Teck Resources from C$40.00 to C$38.00 in a report on Friday. BMO Capital Markets set a C$41.00 target price on Teck Resources and gave the company an "outperform" rating in a report on Monday, April 3rd. Berenberg Bank upgraded Teck Resources from a "hold" rating to a "buy" rating and lifted their price target for the stock from C$34.50 to C$36.00 in a report on Wednesday, March 22nd. Finally, Royal Bank Of Canada reiterated an "outperform" rating and set a C$40.00 price target on shares of Teck Resources in a report on Tuesday, April 18th. Eleven investment analysts have rated the stock with a buy rating, Teck Resources has an average rating of "Buy" and a consensus target price of C$37.88.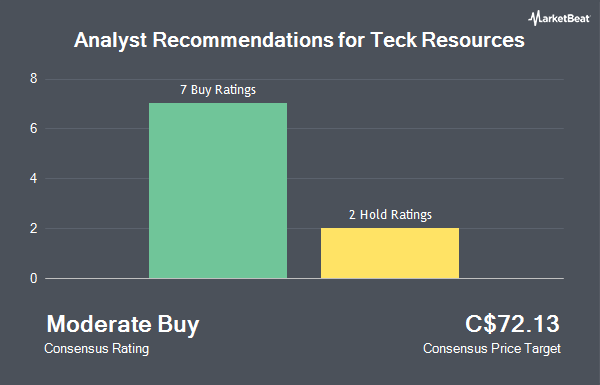 COPYRIGHT VIOLATION NOTICE: This article was first reported by American Banking News and is owned by of American Banking News. If you are reading this article on another site, it was illegally stolen and reposted in violation of U.S. and international copyright legislation. The original version of this article can be viewed at https://www.americanbankingnews.com/2017/06/19/teck-resources-ltd-teck-b-price-target-lowered-to-c38-00-at-scotiabank.html.
About Teck Resources
Teck Resources Ltd is engaged in the business of exploring for, acquiring, developing and producing natural resources. The Company's activities are organized into business units that are focused on steelmaking coal, copper, zinc and energy. It operates in five segments: steelmaking coal, copper, zinc, energy and corporate.

Receive News & Ratings for Teck Resources Ltd Daily - Enter your email address below to receive a concise daily summary of the latest news and analysts' ratings for Teck Resources Ltd and related companies with MarketBeat.com's FREE daily email newsletter.