Trevali Mining Corp (TV) Receives Average Rating of "Buy" from Analysts

Trevali Mining Corp (TSE:TV) has been assigned an average rating of "Buy" from the six brokerages that are currently covering the stock, Marketbeat reports. Six investment analysts have rated the stock with a buy rating. The average 1-year target price among brokerages that have issued ratings on the stock in the last year is C$1.66.
A number of equities analysts have recently weighed in on the company. Scotiabank set a C$1.50 price target on Trevali Mining Corp and gave the stock an "outperform" rating in a report on Monday, March 13th. TD Securities began coverage on Trevali Mining Corp in a research report on Friday, June 2nd. They issued a "buy" rating and a C$1.90 price objective for the company.
WARNING: "Trevali Mining Corp (TV) Receives Average Rating of "Buy" from Analysts" was originally reported by American Banking News and is owned by of American Banking News. If you are viewing this piece on another site, it was copied illegally and republished in violation of US & international copyright & trademark law. The correct version of this piece can be accessed at https://www.americanbankingnews.com/2017/06/27/trevali-mining-corp-tv-receives-average-rating-of-buy-from-analysts.html.
Trevali Mining Corp (TSE:TV) traded up 5.00% during trading on Tuesday, hitting $1.26. The stock had a trading volume of 4,613,526 shares. Trevali Mining Corp has a one year low of $0.45 and a one year high of $1.57. The firm has a market cap of $508.57 million and a price-to-earnings ratio of 45.00. The stock's 50-day moving average is $1.13 and its 200 day moving average is $1.23.
Trevali Mining Corp Company Profile
Trevali Mining Corporation is a Canada-based natural resource company. The Company is engaged in the acquisition, exploration, development and production from mineral properties. The Company holds approximately four properties in Canada and has an interest in a property in Peru with an option on a second Peruvian property.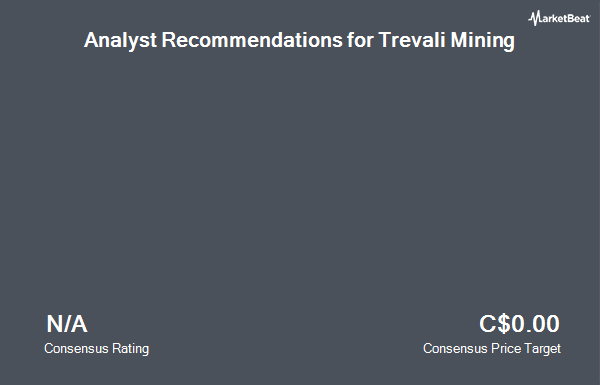 Receive News & Ratings for Trevali Mining Corp Daily - Enter your email address below to receive a concise daily summary of the latest news and analysts' ratings for Trevali Mining Corp and related companies with MarketBeat.com's FREE daily email newsletter.