A. Schulman, Inc. (SHLM) Issues Quarterly Earnings Results, Misses Expectations By $0.02 EPS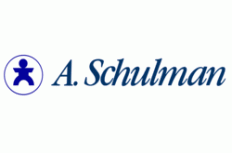 A. Schulman, Inc. (NASDAQ:SHLM) issued its quarterly earnings results on Wednesday. The basic materials company reported $0.63 EPS for the quarter, missing the consensus estimate of $0.65 by $0.02, RTT News reports. The company had revenue of $645.80 million during the quarter, compared to analysts' expectations of $619.54 million. A. Schulman had a positive return on equity of 24.36% and a negative net margin of 14.76%. A. Schulman's revenue was down .7% compared to the same quarter last year. During the same period in the previous year, the firm posted $0.79 EPS.
Shares of A. Schulman (NASDAQ SHLM) traded up 2.91% during midday trading on Wednesday, reaching $28.30. 639,804 shares of the company's stock traded hands. The company's market capitalization is $831.82 million. A. Schulman has a 52 week low of $19.58 and a 52 week high of $37.70. The stock's 50 day moving average is $29.58 and its 200-day moving average is $32.08.
The firm also recently announced a quarterly dividend, which will be paid on Tuesday, August 1st. Shareholders of record on Friday, July 14th will be paid a dividend of $0.205 per share. The ex-dividend date of this dividend is Wednesday, July 12th. This represents a $0.82 annualized dividend and a yield of 2.90%. A. Schulman's dividend payout ratio (DPR) is presently -6.59%.
In related news, SVP Gustavo S. Perez sold 6,468 shares of the stock in a transaction on Monday, April 10th. The stock was sold at an average price of $29.78, for a total transaction of $192,617.04. Following the sale, the senior vice president now owns 37,492 shares of the company's stock, valued at $1,116,511.76. The transaction was disclosed in a filing with the SEC, which can be accessed through this hyperlink. 4.08% of the stock is owned by company insiders.
A hedge fund recently raised its stake in A. Schulman stock. Teachers Advisors LLC increased its position in shares of A. Schulman, Inc. (NASDAQ:SHLM) by 4.9% during the first quarter, according to its most recent filing with the Securities and Exchange Commission (SEC). The institutional investor owned 52,344 shares of the basic materials company's stock after buying an additional 2,468 shares during the period. Teachers Advisors LLC owned 0.18% of A. Schulman worth $1,646,000 as of its most recent SEC filing. Institutional investors and hedge funds own 88.52% of the company's stock.
ILLEGAL ACTIVITY NOTICE: "A. Schulman, Inc. (SHLM) Issues Quarterly Earnings Results, Misses Expectations By $0.02 EPS" was first published by American Banking News and is owned by of American Banking News. If you are accessing this piece on another site, it was illegally copied and republished in violation of international copyright and trademark laws. The correct version of this piece can be read at https://www.americanbankingnews.com/2017/06/28/a-schulman-inc-shlm-announces-earnings-results.html.
Separately, Zacks Investment Research raised shares of A. Schulman from a "sell" rating to a "hold" rating in a research note on Thursday, April 20th. Five investment analysts have rated the stock with a hold rating and one has given a buy rating to the company. A. Schulman currently has a consensus rating of "Hold" and an average target price of $33.00.
About A. Schulman
A. Schulman, Inc is an international supplier of plastic formulations, resins and services, and provides solutions to its customers' requirements through custom-formulated products. The Company's customers span a range of markets, such as packaging, mobility, building and construction, electronics and electrical, agriculture, personal care and hygiene, custom services, and sports, home and leisure.
Receive News & Ratings for A. Schulman Inc. Daily - Enter your email address below to receive a concise daily summary of the latest news and analysts' ratings for A. Schulman Inc. and related companies with MarketBeat.com's FREE daily email newsletter.