Argonaut Gold Inc (AR) Receives Average Recommendation of "Buy" from Analysts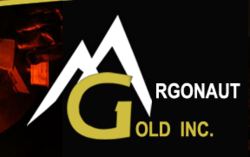 Argonaut Gold Inc (TSE:AR) has received a consensus rating of "Hold" from the seven analysts that are presently covering the firm, Marketbeat reports. Three research analysts have rated the stock with a hold rating and two have issued a buy rating on the company. The average 1-year price target among brokerages that have issued ratings on the stock in the last year is C$3.61.
Several equities analysts have commented on the stock. Scotiabank began coverage on shares of Argonaut Gold in a research note on Friday, June 2nd. They set an "outperform" rating and a C$3.50 target price on the stock. CIBC upgraded shares of Argonaut Gold from an "underperform" rating to a "neutral" rating in a research report on Thursday, May 11th.
WARNING: "Argonaut Gold Inc (AR) Receives Average Recommendation of "Buy" from Analysts" was first reported by American Banking News and is the property of of American Banking News. If you are reading this article on another site, it was copied illegally and republished in violation of U.S. and international copyright laws. The correct version of this article can be viewed at https://www.americanbankingnews.com/2017/06/30/argonaut-gold-inc-ar-receives-average-recommendation-of-buy-from-analysts.html.
In related news, Director Audra Beth Walsh purchased 27,027 shares of the firm's stock in a transaction that occurred on Tuesday, June 6th. The stock was acquired at an average cost of C$1.85 per share, for a total transaction of C$49,999.95.
Argonaut Gold (TSE:AR) traded up 0.84% on Friday, reaching $2.40. 260,149 shares of the company's stock were exchanged. The stock's 50 day moving average price is $2.10 and its 200 day moving average price is $2.29. Argonaut Gold has a 1-year low of $1.48 and a 1-year high of $4.45. The firm has a market capitalization of $424.65 million and a price-to-earnings ratio of 33.80.
About Argonaut Gold
Receive News & Ratings for Argonaut Gold Inc Daily - Enter your email address below to receive a concise daily summary of the latest news and analysts' ratings for Argonaut Gold Inc and related companies with MarketBeat.com's FREE daily email newsletter.