Insider Buying: McKay Securities plc (MCKS) Insider Acquires 22,638 Shares of Stock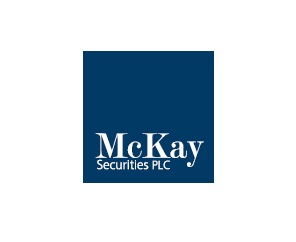 McKay Securities plc (LON:MCKS) insider Richard Grainger purchased 22,638 shares of the firm's stock in a transaction on Thursday, June 29th. The stock was bought at an average cost of GBX 229 ($2.91) per share, with a total value of £51,841.02 ($65,938.72).
Shares of McKay Securities plc (LON:MCKS) traded up 0.11% on Friday, reaching GBX 228.50. The company's stock had a trading volume of 24,787 shares. The company's market capitalization is GBX 214.35 million. The stock has a 50-day moving average price of GBX 228.18 and a 200-day moving average price of GBX 209.64. McKay Securities plc has a 1-year low of GBX 140.00 and a 1-year high of GBX 240.00.
The firm also recently declared a dividend, which will be paid on Thursday, July 27th. Investors of record on Thursday, June 1st will be paid a GBX 6.30 ($0.08) dividend. This is a boost from McKay Securities plc's previous dividend of $2.70. The ex-dividend date of this dividend is Thursday, June 1st. This represents a dividend yield of 2.76%.
WARNING: This report was first reported by American Banking News and is owned by of American Banking News. If you are accessing this report on another website, it was stolen and republished in violation of United States & international trademark and copyright legislation. The legal version of this report can be viewed at https://www.americanbankingnews.com/2017/06/30/insider-buying-mckay-securities-plc-mcks-insider-acquires-22638-shares-of-stock.html.
McKay Securities plc Company Profile
McKay Securities PLC is a real estate investment trust (REIT). The Company is engaged in the property investment and development in the United Kingdom. The Company is focused on the development and refurbishment of the buildings. The Company's portfolio consists of The Mille, 1000 Great West Road; Portsoken House, Minories; 30 Lombard Street; Wimbledon Gate, Worple Road; Great Brighams Mead, Vastern Road; Pegasus Place, Gatwick Road; Corinthian House, Dingwall Road; 66 Wilson Street; 1 Castle Lane; Switchback Office Park, Gardner Road; McKay Trading Estate, Blackthorne Road; 9 Greyfriars Road; 20/30 Greyfriars Road; Prospero, London Road; Runnymede Focus, Windsor Road; Brunel Road; The Planets, Crown Square; Building 329, Doncastle Road; Oakwood Trade Park, Gatwick Road; Ashcombe House 5 The Crescent; Parkside, Knightsbridge; Gainsborough House, 59-60 Thames Street, and One Fleet, Ancells Road.
Receive News & Ratings for McKay Securities plc Daily - Enter your email address below to receive a concise daily summary of the latest news and analysts' ratings for McKay Securities plc and related companies with MarketBeat.com's FREE daily email newsletter.