Insider Selling: Pedevco Corp (PED) VP Sells 26,250 Shares of Stock
Pedevco Corp (NYSE:PED) VP Moore Clark sold 26,250 shares of the stock in a transaction dated Friday, June 30th. The stock was sold at an average price of $0.62, for a total transaction of $16,275.00. Following the transaction, the vice president now directly owns 170,531 shares in the company, valued at approximately $105,729.22. The sale was disclosed in a document filed with the Securities & Exchange Commission, which is accessible through this hyperlink.
Moore Clark also recently made the following trade(s):
On Wednesday, May 17th, Moore Clark sold 9,175 shares of Pedevco Corp stock. The stock was sold at an average price of $0.72, for a total transaction of $6,606.00.
Shares of Pedevco Corp (NYSE PED) traded up 1.8193% during trading on Friday, hitting $0.6436. 69,818 shares of the stock traded hands. Pedevco Corp has a one year low of $0.51 and a one year high of $3.20. The company's market cap is $3.54 million. The firm has a 50 day moving average price of $0.68 and a 200-day moving average price of $0.95.
ILLEGAL ACTIVITY NOTICE: This report was originally published by American Banking News and is the sole property of of American Banking News. If you are reading this report on another domain, it was illegally stolen and republished in violation of international copyright & trademark laws. The legal version of this report can be viewed at https://www.americanbankingnews.com/2017/06/30/insider-selling-pedevco-corp-ped-vp-sells-26250-shares-of-stock.html.
An institutional investor recently raised its position in Pedevco Corp stock. Geneva Advisors LLC increased its stake in Pedevco Corp (NYSE:PED) by 1.6% during the first quarter, according to its most recent filing with the Securities and Exchange Commission. The firm owned 1,202,699 shares of the company's stock after buying an additional 18,834 shares during the period. Geneva Advisors LLC owned about 21.90% of Pedevco Corp worth $110,000 at the end of the most recent quarter.
Pedevco Corp Company Profile
PEDEVCO Corp. is an energy company, which is engaged in the acquisition, exploration, development and production of oil and natural gas shale plays in the Denver-Julesberg Basin (D-J Basin) in Colorado. The D-J Basin contains hydrocarbon bearing deposits in several formations, including the Niobrara, Codell, Greenhorn, Shannon, J-Sand and D-Sand.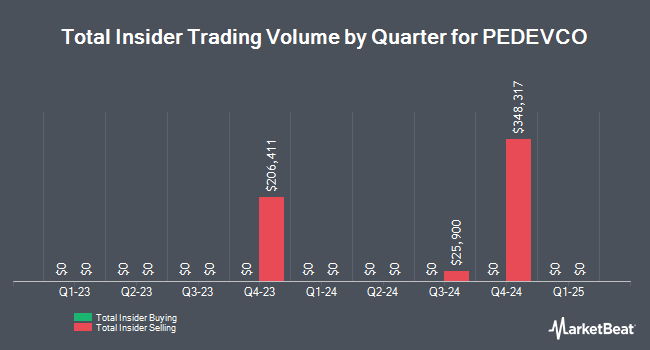 Receive News & Ratings for Pedevco Corp Daily - Enter your email address below to receive a concise daily summary of the latest news and analysts' ratings for Pedevco Corp and related companies with MarketBeat.com's FREE daily email newsletter.