Peel Hunt Reaffirms "Buy" Rating for Nanoco Group PLC (LON:NANO)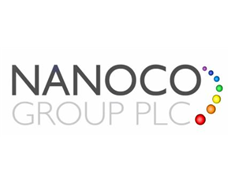 Nanoco Group PLC (LON:NANO)'s stock had its "buy" rating reiterated by equities research analysts at Peel Hunt in a research note issued to investors on Friday. They presently have a GBX 75 ($0.95) price objective on the stock. Peel Hunt's price objective indicates a potential upside of 71.43% from the stock's current price.
Shares of Nanoco Group PLC (LON:NANO) traded up 34.62% during midday trading on Friday, reaching GBX 43.75. 2,433,757 shares of the company's stock were exchanged. Nanoco Group PLC has a one year low of GBX 28.00 and a one year high of GBX 79.62. The firm's market cap is GBX 104.18 million. The stock's 50-day moving average is GBX 37.86 and its 200 day moving average is GBX 38.97.
COPYRIGHT VIOLATION WARNING: This story was first reported by American Banking News and is the property of of American Banking News. If you are viewing this story on another publication, it was stolen and reposted in violation of US & international copyright and trademark legislation. The legal version of this story can be read at https://www.americanbankingnews.com/2017/07/01/peel-hunt-reaffirms-buy-rating-for-nanoco-group-plc-lonnano.html.
Nanoco Group PLC Company Profile
Nanoco Group PLC is engaged in research, development and manufacturing of heavy-metal free quantum dots and semiconductor nanoparticles for use in display, lighting, solar energy and bio-imaging. The Company's products include Cadmium Free Quantum Dots (CFQD), CFQD quantum dot films, and copper indium gallium di-selenide (CIGS)/copper indium di-selenide/sulfide (CIS) nanoparticles.
Receive News & Ratings for Nanoco Group PLC Daily - Enter your email address below to receive a concise daily summary of the latest news and analysts' ratings for Nanoco Group PLC and related companies with MarketBeat.com's FREE daily email newsletter.