Alamos Gold Inc (AGI) Receives Consensus Rating of "Buy" from Brokerages
Shares of Alamos Gold Inc (TSE:AGI) (NYSE:AGI) have been assigned a consensus recommendation of "Buy" from the nine ratings firms that are covering the stock, Marketbeat Ratings reports. Three research analysts have rated the stock with a hold rating and four have assigned a buy rating to the company. The average 12-month target price among brokerages that have covered the stock in the last year is C$12.78.
A number of analysts recently issued reports on AGI shares. TD Securities upgraded Alamos Gold from a "hold" rating to a "buy" rating and set a C$12.50 price objective on the stock in a research note on Friday, May 5th. Desjardins boosted their price objective on Alamos Gold from C$13.25 to C$13.50 in a research note on Thursday, March 9th.
COPYRIGHT VIOLATION NOTICE: "Alamos Gold Inc (AGI) Receives Consensus Rating of "Buy" from Brokerages" was reported by American Banking News and is owned by of American Banking News. If you are reading this news story on another domain, it was copied illegally and republished in violation of U.S. & international copyright & trademark law. The original version of this news story can be read at https://www.americanbankingnews.com/2017/07/03/alamos-gold-inc-agi-receives-consensus-rating-of-buy-from-brokerages.html.
In other Alamos Gold news, insider James Porter bought 4,410 shares of the firm's stock in a transaction on Wednesday, May 24th. The shares were acquired at an average cost of C$8.31 per share, for a total transaction of C$36,647.10. Also, insider Christine Barwell sold 30,000 shares of the company's stock in a transaction dated Friday, April 7th. The stock was sold at an average price of C$11.00, for a total value of C$330,000.00. Insiders sold a total of 55,000 shares of company stock worth $607,000 over the last 90 days.
Alamos Gold (AGI) traded up 2.45% on Monday, reaching $9.20. The company's stock had a trading volume of 1,534,219 shares. Alamos Gold has a 12 month low of $7.86 and a 12 month high of $13.65. The firm's market cap is $2.75 billion. The firm has a 50 day moving average of $9.21 and a 200 day moving average of $9.91.
About Alamos Gold
Alamos Gold Inc is a Canada-based company, which is engaged in the acquisition, exploration, development and extraction of precious metals. The Company's segments include Young-Davidson, Mulatos, El Chanate and Corporate/other. Its Corporate and other segment consists of exploration and development projects.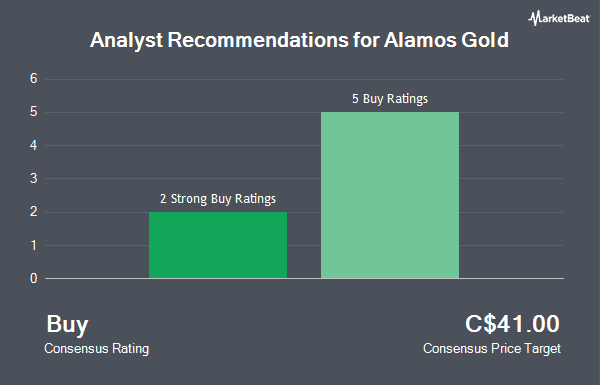 Receive News & Ratings for Alamos Gold Inc Daily - Enter your email address below to receive a concise daily summary of the latest news and analysts' ratings for Alamos Gold Inc and related companies with MarketBeat.com's FREE daily email newsletter.