HSBC Holdings plc Reaffirms Reduce Rating for Hikma Pharmaceuticals Plc (HIK)
Hikma Pharmaceuticals Plc (LON:HIK)'s stock had its "reduce" rating reissued by investment analysts at HSBC Holdings plc in a report issued on Tuesday, StockTargetPrices.com reports. They presently have a GBX 1,800 ($23.32) target price on the stock. HSBC Holdings plc's price target points to a potential upside of 25.26% from the stock's previous close.
A number of other equities research analysts have also recently weighed in on the company. J P Morgan Chase & Co dropped their price target on Hikma Pharmaceuticals Plc from GBX 2,400 ($31.09) to GBX 1,800 ($23.32) and set a "neutral" rating on the stock in a research note on Friday, May 12th. Numis Securities Ltd restated a "buy" rating and issued a GBX 2,350 ($30.44) price target on shares of Hikma Pharmaceuticals Plc in a research note on Thursday, May 11th. Jefferies Group LLC cut Hikma Pharmaceuticals Plc to an "underperform" rating and dropped their price target for the company from GBX 2,162 ($28.01) to GBX 1,450 ($18.78) in a research note on Wednesday, May 17th. Finally, Stifel Nicolaus restated a "buy" rating and issued a GBX 2,550 ($33.03) price target on shares of Hikma Pharmaceuticals Plc in a research note on Tuesday, April 4th. Two equities research analysts have rated the stock with a sell rating, three have issued a hold rating and five have issued a buy rating to the company. The stock has a consensus rating of "Hold" and a consensus price target of GBX 1,996.10 ($25.86).
Shares of Hikma Pharmaceuticals Plc (LON HIK) traded up 0.56% during trading on Tuesday, reaching GBX 1437.00. 394,327 shares of the company were exchanged. The stock's market capitalization is GBX 3.46 billion. Hikma Pharmaceuticals Plc has a one year low of GBX 1,425.00 and a one year high of GBX 2,703.00. The company has a 50 day moving average price of GBX 1,651.86 and a 200-day moving average price of GBX 1,875.19.
COPYRIGHT VIOLATION NOTICE: This story was posted by American Banking News and is the property of of American Banking News. If you are reading this story on another website, it was illegally copied and republished in violation of US and international copyright and trademark laws. The original version of this story can be accessed at https://www.americanbankingnews.com/2017/07/04/hsbc-holdings-plc-reaffirms-reduce-rating-for-hikma-pharmaceuticals-plc-hik.html.
About Hikma Pharmaceuticals Plc
Hikma Pharmaceuticals Plc is a pharmaceutical company. The Company is focused on developing, manufacturing and marketing a range of both branded and non-branded generic and in-licensed products. The Company's segments include Branded, Injectables, Generics and Others. It sells branded generics and in-licensed patented products across the Middle East and North Africa (MENA) region and other markets.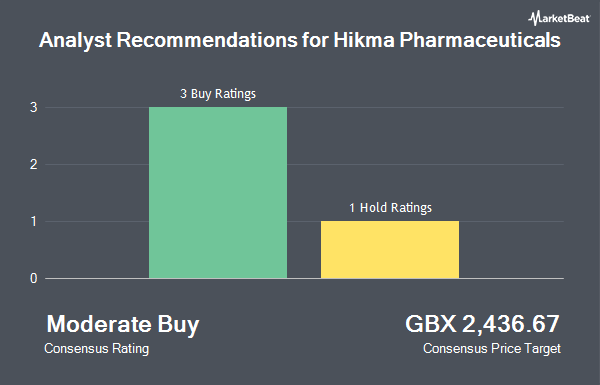 Receive News & Ratings for Hikma Pharmaceuticals Plc Daily - Enter your email address below to receive a concise daily summary of the latest news and analysts' ratings for Hikma Pharmaceuticals Plc and related companies with MarketBeat.com's FREE daily email newsletter.