XOMA Corporation (XOMA) Receives Consensus Recommendation of "Hold" from Analysts
XOMA Corporation (NASDAQ:XOMA) has been given a consensus recommendation of "Hold" by the six ratings firms that are currently covering the stock, Marketbeat reports. Five equities research analysts have rated the stock with a hold rating and one has given a buy rating to the company. The average 12-month target price among analysts that have updated their coverage on the stock in the last year is $12.00.
A number of equities analysts have commented on the company. Zacks Investment Research lowered XOMA Corporation from a "buy" rating to a "hold" rating in a research note on Tuesday, May 9th. HC Wainwright assumed coverage on XOMA Corporation in a research note on Monday, June 12th. They set a "buy" rating and a $15.00 price objective on the stock. Finally, Wedbush restated a "neutral" rating and set a $9.00 price objective (down previously from $14.00) on shares of XOMA Corporation in a research note on Monday, March 27th.
In other XOMA Corporation news, Director John Varian sold 39,540 shares of XOMA Corporation stock in a transaction dated Tuesday, May 16th. The stock was sold at an average price of $6.24, for a total transaction of $246,729.60. Following the transaction, the director now directly owns 2,344 shares of the company's stock, valued at approximately $14,626.56. The sale was disclosed in a document filed with the Securities & Exchange Commission, which can be accessed through this link. 3.92% of the stock is currently owned by insiders.
An institutional investor recently raised its position in XOMA Corporation stock. California Public Employees Retirement System increased its position in XOMA Corporation (NASDAQ:XOMA) by 95.5% during the first quarter, according to its most recent Form 13F filing with the Securities and Exchange Commission (SEC). The institutional investor owned 21,780 shares of the biotechnology company's stock after buying an additional 10,640 shares during the period. California Public Employees Retirement System owned about 0.29% of XOMA Corporation worth $123,000 at the end of the most recent quarter. 31.22% of the stock is currently owned by institutional investors and hedge funds.
TRADEMARK VIOLATION NOTICE: This piece of content was published by American Banking News and is the property of of American Banking News. If you are reading this piece of content on another publication, it was illegally stolen and republished in violation of United States and international copyright law. The correct version of this piece of content can be read at https://www.americanbankingnews.com/2017/07/07/xoma-corporation-xoma-receives-consensus-recommendation-of-hold-from-analysts.html.
XOMA Corporation (NASDAQ:XOMA) opened at 6.86 on Friday. The company's market capitalization is $52.03 million. The firm has a 50-day moving average price of $6.58 and a 200 day moving average price of $5.84. XOMA Corporation has a 12 month low of $3.96 and a 12 month high of $13.98.
XOMA Corporation Company Profile
XOMA Corporation is a development-stage biotechnology company. The Company focuses on the discovery and development of monoclonal antibody-based therapeutics. It has five products in its endocrine portfolio, two of which are developed as part of its XOMA Metabolism (XMet) platform. Its products include XOMA 358, XOMA 129, XOMA 213 and Gevokizumab.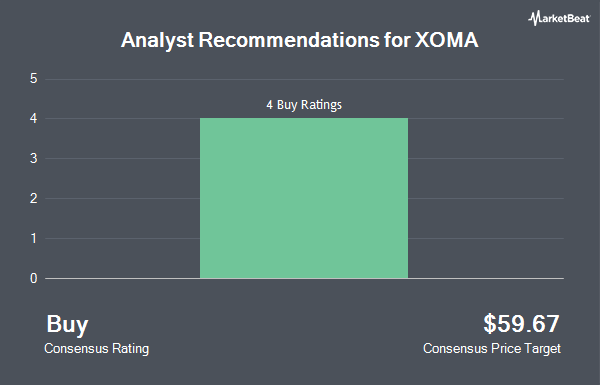 Receive News & Ratings for XOMA Corporation Daily - Enter your email address below to receive a concise daily summary of the latest news and analysts' ratings for XOMA Corporation and related companies with MarketBeat.com's FREE daily email newsletter.