IEC Electronics Corp (NYSE:IEC) Stock Rating Lowered by Zacks Investment Research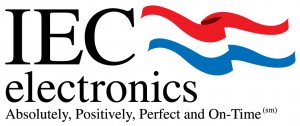 IEC Electronics Corp (NYSE:IEC) was downgraded by Zacks Investment Research from a "hold" rating to a "sell" rating in a note issued to investors on Thursday.
According to Zacks, "IEC Electronics Corp. is a full service, ISO 9001 and 9002 certified, contract manufacturer employing state-of-the-art production utilizing both surface mount and pin-through-hole technology. IEC offers its customers a wide range of manufacturing and management services, on either a turnkey or consignment basis, including design prototyping, material procurement and control, concurrent engineering services, manufacturing and test engineering support, statistical quality assurance and complete resource management. (PRESS RELEASE) "
IEC has been the topic of a number of other research reports. Noble Financial reiterated a "buy" rating on shares of IEC Electronics Corp in a research report on Saturday, July 1st. TheStreet lowered IEC Electronics Corp from a "c" rating to a "d+" rating in a research report on Monday, June 12th.
Shares of IEC Electronics Corp (NYSE:IEC) traded up 0.5288% during mid-day trading on Thursday, hitting $3.6693. 10,797 shares of the stock were exchanged. The stock's market cap is $37.86 million. The stock's 50 day moving average is $3.64 and its 200-day moving average is $3.65. IEC Electronics Corp has a 12 month low of $3.21 and a 12 month high of $5.64.
IEC Electronics Corp (NYSE:IEC) last issued its earnings results on Wednesday, May 10th. The technology company reported ($0.06) EPS for the quarter, missing the Zacks' consensus estimate of ($0.05) by $0.01. The firm had revenue of $21.37 million during the quarter, compared to analysts' expectations of $22 million. IEC Electronics Corp had a negative net margin of 2.88% and a negative return on equity of 19.12%. On average, analysts anticipate that IEC Electronics Corp will post $0.00 EPS for the current year.
TRADEMARK VIOLATION WARNING: This article was published by American Banking News and is owned by of American Banking News. If you are viewing this article on another domain, it was stolen and republished in violation of U.S. and international trademark & copyright law. The original version of this article can be viewed at https://www.americanbankingnews.com/2017/07/09/iec-electronics-corp-nyseiec-stock-rating-lowered-by-zacks-investment-research.html.
A hedge fund recently raised its stake in IEC Electronics Corp stock. Punch & Associates Investment Management Inc. increased its stake in IEC Electronics Corp (NYSE:IEC) by 115.5% during the first quarter, according to its most recent 13F filing with the Securities and Exchange Commission (SEC). The fund owned 273,200 shares of the technology company's stock after buying an additional 146,430 shares during the period. Punch & Associates Investment Management Inc. owned approximately 2.66% of IEC Electronics Corp worth $1,049,000 at the end of the most recent quarter.
About IEC Electronics Corp
IEC Electronics Corp. provides electronic manufacturing services (EMS) to a range of technology companies that produce life-saving and mission critical products for the medical, industrial, aerospace and defense sectors. The Company specializes in delivering technical solutions for the custom manufacture of full system assemblies by providing on-site analytical testing laboratories, custom design and test engineering services combined with an array of manufacturing services encompassing electronics, interconnect solutions and precision metalworking.
Get a free copy of the Zacks research report on IEC Electronics Corp (IEC)
For more information about research offerings from Zacks Investment Research, visit Zacks.com
Receive News & Ratings for IEC Electronics Corp Daily - Enter your email address below to receive a concise daily summary of the latest news and analysts' ratings for IEC Electronics Corp and related companies with MarketBeat.com's FREE daily email newsletter.