Stornoway Diamond Co. (TSE:SWY) Downgraded by Royal Bank of Canada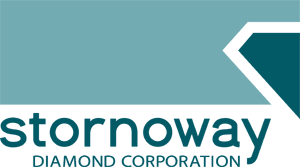 Stornoway Diamond Co. (TSE:SWY) was downgraded by analysts at Royal Bank of Canada from an "outperform" rating to a "sector perform" rating in a research report issued to clients and investors on Monday. They currently have a C$0.90 price target on the stock, down from their prior price target of C$1.30. Royal Bank of Canada's target price suggests a potential upside of 20.00% from the stock's previous close.
Separately, TD Securities lowered their target price on Stornoway Diamond from C$0.95 to C$0.90 and set a "hold" rating for the company in a research note on Thursday, May 11th.
Stornoway Diamond (TSE:SWY) remained flat at $0.75 during trading on Monday. 202,115 shares of the company traded hands. Stornoway Diamond has a 52-week low of $0.69 and a 52-week high of $1.33. The company has a 50-day moving average of $0.81 and a 200 day moving average of $0.86. The firm has a market cap of $621.50 million and a price-to-earnings ratio of 15.62.
COPYRIGHT VIOLATION NOTICE: "Stornoway Diamond Co. (TSE:SWY) Downgraded by Royal Bank of Canada" was first posted by American Banking News and is owned by of American Banking News. If you are accessing this news story on another website, it was illegally copied and republished in violation of US and international copyright legislation. The correct version of this news story can be viewed at https://www.americanbankingnews.com/2017/07/10/stornoway-diamond-co-tseswy-downgraded-by-royal-bank-of-canada.html.
About Stornoway Diamond
Stornoway Diamond Corp is a Canada-based diamond exploration and development company. The Company is principally engaged in the acquisition, exploration and development of diamond properties. The Company's principal focus is its Renard Diamond Project located in north-central Quebec, a project in construction.
Receive News & Ratings for Stornoway Diamond Co. Daily - Enter your email address below to receive a concise daily summary of the latest news and analysts' ratings for Stornoway Diamond Co. and related companies with MarketBeat.com's FREE daily email newsletter.