Realty Income Corporation (NYSE:O) Declares Aug 17 Dividend of $0.21
Realty Income Corporation (NYSE:O) declared a aug 17 dividend on Tuesday, July 11th, RTT News reports. Investors of record on Tuesday, August 1st will be paid a dividend of 0.2115 per share by the real estate investment trust on Tuesday, August 15th. The ex-dividend date is Friday, July 28th.
Realty Income Corporation has increased its dividend by an average of 3.7% annually over the last three years and has raised its dividend every year for the last 21 years. Realty Income Corporation has a dividend payout ratio of 84.4% indicating that its dividend is currently covered by earnings, but may not be in the future if the company's earnings decline. Equities analysts expect Realty Income Corporation to earn $1.31 per share next year, which means the company may not be able to cover its $2.54 annual dividend with an expected future payout ratio of 193.9%.
Shares of Realty Income Corporation (NYSE:O) traded up 0.54% during trading on Tuesday, reaching $53.89. The company had a trading volume of 1,182,231 shares. The stock's 50-day moving average price is $55.32 and its 200-day moving average price is $58.21. The stock has a market capitalization of $14.72 billion, a PE ratio of 46.94 and a beta of 0.31. Realty Income Corporation has a 12 month low of $52.72 and a 12 month high of $72.29.
Realty Income Corporation (NYSE:O) last issued its quarterly earnings results on Tuesday, April 25th. The real estate investment trust reported $0.76 earnings per share (EPS) for the quarter, beating analysts' consensus estimates of $0.75 by $0.01. The firm had revenue of $298.03 million during the quarter, compared to analyst estimates of $281.11 million. Realty Income Corporation had a return on equity of 5.16% and a net margin of 29.47%. The firm's quarterly revenue was up 11.6% on a year-over-year basis. During the same period last year, the company posted $0.70 EPS. Equities analysts forecast that Realty Income Corporation will post $1.23 earnings per share for the current fiscal year.
TRADEMARK VIOLATION WARNING: "Realty Income Corporation (NYSE:O) Declares Aug 17 Dividend of $0.21" was originally reported by American Banking News and is the sole property of of American Banking News. If you are viewing this piece on another domain, it was copied illegally and republished in violation of US and international trademark & copyright laws. The correct version of this piece can be read at https://www.americanbankingnews.com/2017/07/11/realty-income-corporation-nyseo-declares-aug-17-dividend-of-0-21.html.
A number of brokerages have issued reports on O. BidaskClub lowered Realty Income Corporation from a "hold" rating to a "sell" rating in a research note on Wednesday, July 5th. Zacks Investment Research lowered Realty Income Corporation from a "hold" rating to a "sell" rating in a research note on Wednesday, June 28th. Four investment analysts have rated the stock with a sell rating, four have assigned a hold rating and four have issued a buy rating to the company's stock. The stock presently has a consensus rating of "Hold" and an average target price of $64.74.
In other news, Director Priya Cherian Huskins sold 8,000 shares of the stock in a transaction on Monday, June 19th. The stock was sold at an average price of $56.23, for a total transaction of $449,840.00. Following the completion of the sale, the director now owns 20,513 shares in the company, valued at approximately $1,153,445.99. The sale was disclosed in a legal filing with the Securities & Exchange Commission, which is available through this hyperlink. 0.30% of the stock is currently owned by corporate insiders.
About Realty Income Corporation
Realty Income Corporation is a real estate investment trust (REIT). The Company is engaged in in-house acquisition, portfolio management, asset management, credit research, real estate research, legal, finance and accounting, information technology and capital markets capabilities. As of December 31, 2016, the Company owned a diversified portfolio of 4,944 properties located in 49 states and Puerto Rico, with over 83.0 million square feet of leasable space leased to 248 different commercial tenants doing business in 47 separate industries.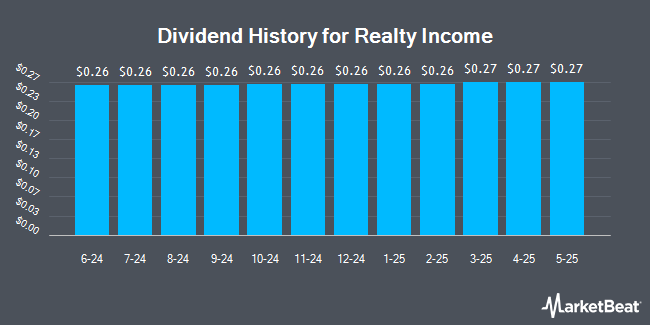 Receive News & Ratings for Realty Income Corporation Daily - Enter your email address below to receive a concise daily summary of the latest news and analysts' ratings for Realty Income Corporation and related companies with MarketBeat.com's FREE daily email newsletter.