Zacks: Brokerages Expect Galena Biopharma, Inc. (NASDAQ:GALE) to Announce -$0.15 EPS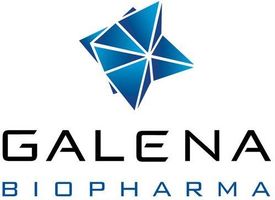 Analysts expect Galena Biopharma, Inc. (NASDAQ:GALE) to announce earnings of ($0.15) per share for the current quarter, Zacks reports. Zero analysts have provided estimates for Galena Biopharma's earnings. Galena Biopharma posted earnings of $1.20 per share in the same quarter last year, which would suggest a negative year-over-year growth rate of 112.5%. The business is scheduled to report its next earnings results on Tuesday, August 8th.
According to Zacks, analysts expect that Galena Biopharma will report full year earnings of ($0.56) per share for the current financial year. For the next financial year, analysts forecast that the firm will report earnings of ($0.86) per share. Zacks' EPS averages are a mean average based on a survey of sell-side research analysts that that provide coverage for Galena Biopharma.
Galena Biopharma (NASDAQ:GALE) last released its earnings results on Wednesday, May 10th. The biotechnology company reported ($0.09) EPS for the quarter, topping analysts' consensus estimates of ($0.22) by $0.13. During the same quarter in the previous year, the firm posted ($0.07) EPS.
A number of equities analysts have recently issued reports on the stock. Zacks Investment Research upgraded shares of Galena Biopharma from a "hold" rating to a "strong-buy" rating and set a $0.75 price target for the company in a report on Monday, March 20th. ValuEngine downgraded shares of Galena Biopharma from a "sell" rating to a "strong sell" rating in a report on Friday, June 2nd.
An institutional investor recently bought a new position in Galena Biopharma stock. Renaissance Technologies LLC purchased a new position in shares of Galena Biopharma, Inc. (NASDAQ:GALE) during the first quarter, according to its most recent filing with the Securities and Exchange Commission (SEC). The fund purchased 1,600,275 shares of the biotechnology company's stock, valued at approximately $976,000. Renaissance Technologies LLC owned about 4.45% of Galena Biopharma at the end of the most recent quarter. Hedge funds and other institutional investors own 22.03% of the company's stock.
COPYRIGHT VIOLATION WARNING: This news story was originally published by American Banking News and is owned by of American Banking News. If you are viewing this news story on another website, it was illegally stolen and republished in violation of United States & international trademark and copyright law. The legal version of this news story can be viewed at https://www.americanbankingnews.com/2017/07/14/zacks-brokerages-expect-galena-biopharma-inc-nasdaqgale-to-announce-0-15-eps.html.
Galena Biopharma (NASDAQ GALE) traded up 0.6485% during mid-day trading on Friday, hitting $0.5898. 138,489 shares of the stock were exchanged. Galena Biopharma has a one year low of $0.52 and a one year high of $11.18. The company's market cap is $22.08 million. The company has a 50-day moving average price of $0.57 and a 200-day moving average price of $0.97.
Galena Biopharma Company Profile
Galena Biopharma, Inc is a biopharmaceutical company. The Company focuses on developing and commercializing targeted oncology therapeutics that address unmet medical needs. The Company's development portfolio ranges from mid- to late-stage clinical assets, including cancer immunotherapy program led by NeuVax (nelipepimut-S), GALE-301 and GALE-302.
Get a free copy of the Zacks research report on Galena Biopharma (GALE)
For more information about research offerings from Zacks Investment Research, visit Zacks.com
Receive News & Ratings for Galena Biopharma Inc. Daily - Enter your email address below to receive a concise daily summary of the latest news and analysts' ratings for Galena Biopharma Inc. and related companies with MarketBeat.com's FREE daily email newsletter.