Astec Industries, Inc. (ASTE) Scheduled to Post Quarterly Earnings on Monday
Astec Industries, Inc. (NASDAQ:ASTE) is scheduled to post its quarterly earnings results before the market opens on Monday, July 24th. Analysts expect Astec Industries to post earnings of $0.80 per share for the quarter.
Astec Industries (NASDAQ:ASTE) last issued its quarterly earnings results on Tuesday, April 25th. The industrial products company reported $0.65 earnings per share (EPS) for the quarter, missing the Zacks' consensus estimate of $0.66 by $0.01. Astec Industries had a return on equity of 8.09% and a net margin of 4.43%. The business had revenue of $318.40 million during the quarter, compared to analysts' expectations of $291.51 million. During the same quarter in the previous year, the company posted $0.77 EPS. The company's quarterly revenue was up 14.2% on a year-over-year basis. On average, analysts expect Astec Industries to post $2.7 EPS for the current fiscal year and $3.34 EPS for the next fiscal year.
Shares of Astec Industries, Inc. (ASTE) opened at 55.88 on Monday. Astec Industries, Inc. has a 52 week low of $52.08 and a 52 week high of $73.37. The firm has a 50-day moving average price of $56.61 and a 200-day moving average price of $62.99. The stock has a market cap of $1.29 billion, a price-to-earnings ratio of 24.73 and a beta of 1.11.
WARNING: This news story was originally published by American Banking News and is owned by of American Banking News. If you are viewing this news story on another publication, it was illegally copied and republished in violation of U.S. & international copyright and trademark law. The original version of this news story can be read at https://www.americanbankingnews.com/2017/07/17/astec-industries-inc-aste-scheduled-to-post-quarterly-earnings-on-monday.html.
Separately, BidaskClub downgraded shares of Astec Industries from a "sell" rating to a "strong sell" rating in a research report on Wednesday, June 21st. One analyst has rated the stock with a sell rating, two have given a hold rating and four have assigned a buy rating to the company. The company presently has an average rating of "Hold" and a consensus target price of $68.80.
About Astec Industries
Astec Industries, Inc designs, engineers, manufactures and markets equipment and components used primarily in road building and related construction activities. Its segments include Infrastructure Group, Aggregate and Mining Group and Energy Group. The Infrastructure Group segment is made up of five business units, including Astec, Inc, Roadtec, Inc, Carlson Paving Products, Inc, Astec Mobile Machinery GmbH and Astec Australia Pty Ltd.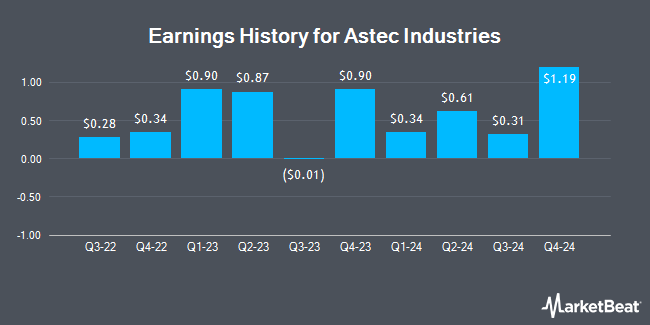 Receive News & Ratings for Astec Industries Inc. Daily - Enter your email address below to receive a concise daily summary of the latest news and analysts' ratings for Astec Industries Inc. and related companies with MarketBeat.com's FREE daily email newsletter.