Benchmark Electronics, Inc. (NYSE:BHE) Scheduled to Post Quarterly Earnings on Wednesday
Benchmark Electronics, Inc. (NYSE:BHE) will post its quarterly earnings results after the market closes on Wednesday, July 19th. Analysts expect Benchmark Electronics to post earnings of $0.34 per share for the quarter. Benchmark Electronics has set its Q2 guidance at $0.31-0.35 EPS.
Benchmark Electronics (NYSE:BHE) last released its quarterly earnings results on Wednesday, April 19th. The technology company reported $0.34 EPS for the quarter, beating analysts' consensus estimates of $0.26 by $0.08. Benchmark Electronics had a return on equity of 5.38% and a net margin of 2.69%. The firm had revenue of $566.50 million for the quarter, compared to analyst estimates of $540.50 million. During the same quarter in the previous year, the company posted $0.30 EPS. The business's revenue was up 3.1% on a year-over-year basis. On average, analysts expect Benchmark Electronics to post $1.47 EPS for the current fiscal year and $1.68 EPS for the next fiscal year.
Shares of Benchmark Electronics, Inc. (NYSE:BHE) opened at 33.70 on Monday. The firm has a 50 day moving average price of $32.72 and a 200-day moving average price of $31.61. The company has a market cap of $1.68 billion, a price-to-earnings ratio of 26.75 and a beta of 0.51. Benchmark Electronics, Inc. has a 52-week low of $22.38 and a 52-week high of $34.45.
In related news, insider Jon J. King sold 24,627 shares of the firm's stock in a transaction dated Monday, April 24th. The stock was sold at an average price of $31.40, for a total value of $773,287.80. Following the sale, the insider now directly owns 51,848 shares of the company's stock, valued at $1,628,027.20. The transaction was disclosed in a legal filing with the Securities & Exchange Commission, which can be accessed through the SEC website. 0.90% of the stock is owned by company insiders.
COPYRIGHT VIOLATION WARNING: This report was first reported by American Banking News and is the sole property of of American Banking News. If you are reading this report on another publication, it was illegally copied and reposted in violation of United States and international copyright laws. The original version of this report can be viewed at https://www.americanbankingnews.com/2017/07/17/benchmark-electronics-inc-nysebhe-scheduled-to-post-quarterly-earnings-on-wednesday.html.
Separately, BidaskClub cut Benchmark Electronics from a "buy" rating to a "hold" rating in a research note on Saturday, June 17th. One analyst has rated the stock with a sell rating, four have issued a hold rating and two have assigned a buy rating to the stock. The stock has a consensus rating of "Hold" and an average price target of $27.50.
Benchmark Electronics Company Profile
Benchmark Electronics, Inc is a provider of electronic manufacturing services. The Company operates through three segments: the Americas, Asia and Europe. It provides services to original equipment manufacturers of industrial control equipment, including equipment for the aerospace and defense industry; telecommunication equipment; computers and related products for business enterprises; medical devices, and testing and instrumentation products.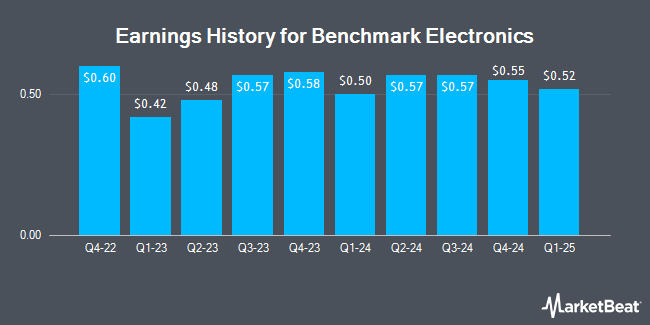 Receive News & Ratings for Benchmark Electronics Inc. Daily - Enter your email address below to receive a concise daily summary of the latest news and analysts' ratings for Benchmark Electronics Inc. and related companies with MarketBeat.com's FREE daily email newsletter.