CryoLife, Inc. (NYSE:CRY) Scheduled to Post Earnings on Monday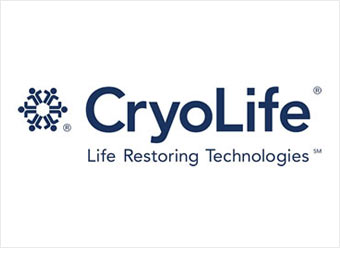 CryoLife, Inc. (NYSE:CRY) is set to issue its quarterly earnings data after the market closes on Monday, July 24th. Analysts expect the company to announce earnings of $0.10 per share for the quarter. CryoLife has set its FY17 guidance at $0.40-0.43 EPS.
CryoLife (NYSE:CRY) last posted its quarterly earnings results on Wednesday, April 26th. The medical equipment provider reported $0.09 EPS for the quarter, beating the consensus estimate of $0.04 by $0.05. The business had revenue of $45.10 million for the quarter, compared to analysts' expectations of $44.64 million. CryoLife had a net margin of 5.73% and a return on equity of 7.77%. CryoLife's revenue was up 4.9% on a year-over-year basis. During the same period in the previous year, the company posted $0.10 EPS. On average, analysts expect CryoLife to post $0.43 EPS for the current fiscal year and $0.52 EPS for the next fiscal year.
Shares of CryoLife, Inc. (NYSE:CRY) opened at 19.70 on Monday. CryoLife, Inc. has a one year low of $11.81 and a one year high of $20.30. The company has a 50-day moving average of $18.79 and a 200-day moving average of $17.93. The company has a market capitalization of $655.22 million, a PE ratio of 63.96 and a beta of 0.99.
A number of brokerages have recently commented on CRY. Zacks Investment Research raised shares of CryoLife from a "hold" rating to a "buy" rating and set a $21.00 price objective for the company in a research report on Thursday, June 8th. Northland Securities reissued a "buy" rating and issued a $23.50 price objective on shares of CryoLife in a research report on Friday, April 28th. Five research analysts have rated the stock with a buy rating, The company has a consensus rating of "Buy" and a consensus target price of $20.80.
ILLEGAL ACTIVITY WARNING: This news story was originally posted by American Banking News and is the sole property of of American Banking News. If you are reading this news story on another publication, it was illegally stolen and republished in violation of international copyright & trademark legislation. The original version of this news story can be viewed at https://www.americanbankingnews.com/2017/07/17/cryolife-inc-nysecry-scheduled-to-post-earnings-on-monday.html.
In other news, VP Amy Horton sold 9,577 shares of CryoLife stock in a transaction dated Tuesday, June 27th. The shares were sold at an average price of $20.00, for a total value of $191,540.00. Following the completion of the transaction, the vice president now owns 112,282 shares of the company's stock, valued at approximately $2,245,640. The sale was disclosed in a legal filing with the SEC, which is accessible through this hyperlink. Company insiders own 6.00% of the company's stock.
CryoLife Company Profile
CryoLife, Inc (CryoLife) is a medical device manufacturer and processor, and is engaged in the distribution of medical devices and implantable human tissues used in cardiac surgical procedures. The Company operates through two segments: Medical Devices and Preservation Services. The Medical Devices segment includes medical devices, such as BioGlue Surgical Adhesive, BioFoam Surgical Matrix, On-X Life Technologies Holdings, Inc valves and surgical products, CardioGenesis cardiac laser therapy product line, PerClot and PhotoFix.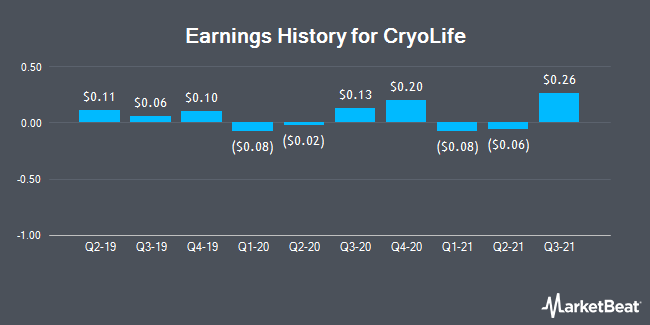 Receive News & Ratings for CryoLife Inc. Daily - Enter your email address below to receive a concise daily summary of the latest news and analysts' ratings for CryoLife Inc. and related companies with MarketBeat.com's FREE daily email newsletter.