Diebold, Incorporated (NYSE:DBD) Scheduled to Post Quarterly Earnings on Wednesday
Diebold, Incorporated (NYSE:DBD) is set to announce its earnings results before the market opens on Wednesday, July 19th. Analysts expect the company to announce earnings of $0.09 per share for the quarter. Diebold, has set its FY17 guidance at $1.40-1.70 EPS.
Diebold, (NYSE:DBD) last released its earnings results on Thursday, May 4th. The technology company reported $0.08 earnings per share for the quarter, beating the consensus estimate of $0.01 by $0.07. Diebold, had a positive return on equity of 9.88% and a negative net margin of 6.65%. The firm had revenue of $1.10 billion for the quarter, compared to analyst estimates of $1.17 billion. During the same quarter in the prior year, the firm posted ($0.03) earnings per share. The company's quarterly revenue was up 116.4% on a year-over-year basis. On average, analysts expect Diebold, to post $1.09 EPS for the current fiscal year and $1.77 EPS for the next fiscal year.
Diebold, Incorporated (DBD) opened at 21.25 on Monday. The firm has a 50-day moving average price of $26.93 and a 200 day moving average price of $27.66. Diebold, Incorporated has a 1-year low of $19.95 and a 1-year high of $31.85. The firm's market cap is $1.60 billion.
The business also recently announced a quarterly dividend, which will be paid on Friday, September 15th. Shareholders of record on Friday, August 25th will be issued a dividend of $0.10 per share. This represents a $0.40 annualized dividend and a yield of 1.88%. The ex-dividend date is Wednesday, August 23rd. Diebold,'s payout ratio is presently -11.17%.
COPYRIGHT VIOLATION WARNING: This news story was originally reported by American Banking News and is the sole property of of American Banking News. If you are accessing this news story on another publication, it was illegally copied and reposted in violation of US and international trademark and copyright law. The legal version of this news story can be accessed at https://www.americanbankingnews.com/2017/07/17/diebold-incorporated-nysedbd-scheduled-to-post-quarterly-earnings-on-wednesday.html.
In other news, Director Phillip R. Cox sold 4,504 shares of the business's stock in a transaction dated Friday, May 12th. The stock was sold at an average price of $27.01, for a total value of $121,653.04. The sale was disclosed in a filing with the SEC, which can be accessed through this link. 1.37% of the stock is owned by insiders.
Several research analysts have commented on DBD shares. Lake Street Capital cut their target price on Diebold, from $38.00 to $30.00 and set a "buy" rating on the stock in a report on Thursday, July 6th. Feltl & Co. started coverage on Diebold, in a report on Tuesday, April 18th. They set a "buy" rating on the stock. Finally, Zacks Investment Research raised Diebold, from a "strong sell" rating to a "hold" rating in a report on Wednesday, April 12th. One analyst has rated the stock with a sell rating, two have given a hold rating and six have given a buy rating to the company. The company presently has a consensus rating of "Buy" and a consensus target price of $32.50.
Diebold, Company Profile
Diebold Nixdorf, Incorporated provides connected commerce services, software and technology. The Company's geographic segments include North America (NA), Asia Pacific (AP), Europe, Middle East and Africa (EMEA), and Latin America (LA). These segments sell and service financial self-service (FSS), retail solutions and security systems.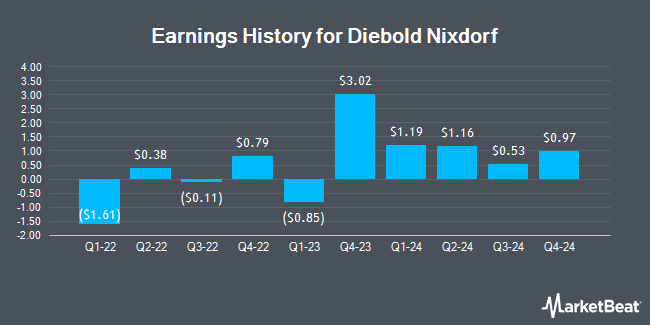 Receive News & Ratings for Diebold Incorporated Daily - Enter your email address below to receive a concise daily summary of the latest news and analysts' ratings for Diebold Incorporated and related companies with MarketBeat.com's FREE daily email newsletter.