K Bro Linen Inc to Issue Monthly Dividend of $0.10 (TSE:KBL)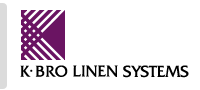 K Bro Linen Inc (TSE:KBL) announced a monthly dividend on Monday, July 17th, Zacks reports. Stockholders of record on Monday, July 31st will be paid a dividend of 0.10 per share on Tuesday, August 15th. This represents a $1.20 dividend on an annualized basis and a dividend yield of 3.02%. The ex-dividend date is Thursday, July 27th.
Shares of K Bro Linen (TSE:KBL) traded up 0.03% during mid-day trading on Tuesday, hitting $39.76. The stock had a trading volume of 2,290 shares. The company has a 50-day moving average of $39.24 and a 200 day moving average of $40.79. K Bro Linen has a one year low of $36.69 and a one year high of $45.00. The firm has a market cap of $377.56 million and a price-to-earnings ratio of 31.06.
KBL has been the topic of several research reports. National Bank Financial lowered K Bro Linen from a "sector perform" rating to an "underperform" rating in a research report on Monday, March 27th. TD Securities dropped their target price on K Bro Linen from C$51.00 to C$50.00 and set a "buy" rating on the stock in a research report on Tuesday, March 28th.
COPYRIGHT VIOLATION WARNING: This news story was originally published by American Banking News and is owned by of American Banking News. If you are accessing this news story on another publication, it was illegally stolen and reposted in violation of United States and international copyright & trademark law. The correct version of this news story can be viewed at https://www.americanbankingnews.com/2017/07/18/k-bro-linen-inc-to-issue-monthly-dividend-of-0-10-tsekbl.html.
About K Bro Linen
K Bro Linen Inc is a Canada-based owner and operator of laundry and linen processing facilities. The Company provides laundry and linen services to healthcare institutions, hotels and other commercial accounts. The Company's services include the processing, management and distribution of general and operating room linens (K Bro Operating Room (KOR) Services), including sheets, blankets, towels, tablecloths, surgical gowns and drapes, and other types of linen.
Receive News & Ratings for K Bro Linen Inc Daily - Enter your email address below to receive a concise daily summary of the latest news and analysts' ratings for K Bro Linen Inc and related companies with MarketBeat.com's FREE daily email newsletter.