Tarsus Group plc (TRS) to Release Earnings on Tuesday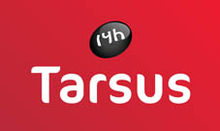 Tarsus Group plc (LON:TRS) is scheduled to be posting its quarterly earnings results before the market opens on Tuesday, July 25th.
Shares of Tarsus Group plc (TRS) opened at 298.75 on Tuesday. The firm's 50 day moving average is GBX 287.16 and its 200 day moving average is GBX 281.91. The stock's market capitalization is GBX 335.03 million. Tarsus Group plc has a 12 month low of GBX 239.75 and a 12 month high of GBX 301.75.
Several brokerages have weighed in on TRS. Peel Hunt reaffirmed a "buy" rating and issued a GBX 320 ($4.18) target price on shares of Tarsus Group plc in a research report on Monday. Liberum Capital reissued a "buy" rating and issued a GBX 375 ($4.90) price target on shares of Tarsus Group plc in a research note on Wednesday, May 17th.
COPYRIGHT VIOLATION NOTICE: This story was originally reported by American Banking News and is the sole property of of American Banking News. If you are reading this story on another publication, it was stolen and republished in violation of United States & international trademark & copyright laws. The correct version of this story can be accessed at https://www.americanbankingnews.com/2017/07/18/tarsus-group-plc-trs-to-release-earnings-on-tuesday.html.
Tarsus Group plc Company Profile
Tarsus Group plc is an integrated media group primarily engaged in exhibitions, along with associated conferences, publishing, education and Internet activities. The principal activity of the Company is the holding of investments. The Company operates through three segments: EMEA, Americas, and Asia.
Receive News & Ratings for Tarsus Group plc Daily - Enter your email address below to receive a concise daily summary of the latest news and analysts' ratings for Tarsus Group plc and related companies with MarketBeat.com's FREE daily email newsletter.