Royal Bank Of Canada Lowers Granite Oil Corp (TSE:GXO) Price Target to C$6.00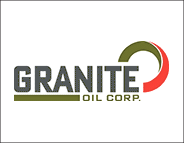 Granite Oil Corp (TSE:GXO) had its price objective cut by equities research analysts at Royal Bank Of Canada from C$8.00 to C$6.00 in a research note issued on Thursday, StockTargetPrices.com reports. Royal Bank Of Canada's price objective suggests a potential upside of 23.71% from the stock's current price.
Separately, Raymond James Financial, Inc. reaffirmed a "strong-buy" rating and set a C$10.50 price objective on shares of Granite Oil Corp in a research note on Thursday, March 23rd.
Shares of Granite Oil Corp (GXO) traded down 0.82% during midday trading on Thursday, reaching $4.81. The company had a trading volume of 16,745 shares. Granite Oil Corp has a 52-week low of $4.31 and a 52-week high of $8.22. The firm's market cap is $162.15 million. The company's 50-day moving average is $4.62 and its 200-day moving average is $5.29.
ILLEGAL ACTIVITY WARNING: This news story was reported by American Banking News and is the property of of American Banking News. If you are accessing this news story on another publication, it was illegally copied and republished in violation of United States and international trademark and copyright laws. The legal version of this news story can be viewed at https://www.americanbankingnews.com/2017/07/20/royal-bank-of-canada-lowers-granite-oil-corp-tsegxo-price-target-to-c6-00.html.
In other Granite Oil Corp news, insider Henry Peter Hamm bought 6,700 shares of the firm's stock in a transaction on Friday, July 7th. The stock was purchased at an average cost of C$4.45 per share, with a total value of C$29,815.00. Over the last three months, insiders acquired 11,000 shares of company stock valued at $47,444.
About Granite Oil Corp
Granite Oil Corp., formerly DeeThree Exploration Ltd., is a Canada-based oil producer based in Calgary, Alberta with lands and operations located in southern Alberta. The Company is engaged in the exploration for and exploitation, development and production of oil and natural gas. Its Alberta Bakken Properties are located in southern Alberta, approximately 70 kilometers south of Lethbridge.

Receive News & Ratings for Granite Oil Corp Daily - Enter your email address below to receive a concise daily summary of the latest news and analysts' ratings for Granite Oil Corp and related companies with MarketBeat.com's FREE daily email newsletter.