American River Bankshares (NASDAQ:AMRB) Announces Quarterly Dividend of $0.05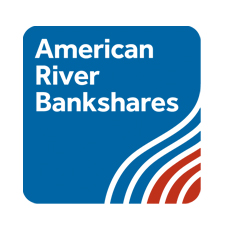 American River Bankshares (NASDAQ:AMRB) announced a quarterly dividend on Thursday, July 20th, Zacks reports. Investors of record on Wednesday, August 2nd will be given a dividend of 0.05 per share by the financial services provider on Wednesday, August 16th. This represents a $0.20 dividend on an annualized basis and a yield of 1.43%. The ex-dividend date of this dividend is Monday, July 31st.
American River Bankshares (AMRB) remained flat at $13.95 during mid-day trading on Friday. The stock had a trading volume of 3,222 shares. The firm's 50-day moving average price is $14.09 and its 200 day moving average price is $14.66. The company has a market cap of $90.14 million, a P/E ratio of 14.95 and a beta of 0.38. American River Bankshares has a 12 month low of $10.15 and a 12 month high of $15.99.
American River Bankshares (NASDAQ:AMRB) last posted its earnings results on Thursday, July 20th. The financial services provider reported $0.20 earnings per share for the quarter, meeting the consensus estimate of $0.20. The company had revenue of $5.31 million for the quarter, compared to analyst estimates of $5.35 million. American River Bankshares had a net margin of 27.46% and a return on equity of 7.42%. On average, equities research analysts anticipate that American River Bankshares will post $0.79 earnings per share for the current fiscal year.
In related news, COO Kevin Bender sold 3,000 shares of the company's stock in a transaction that occurred on Monday, May 8th. The shares were sold at an average price of $14.83, for a total transaction of $44,490.00. Following the sale, the chief operating officer now directly owns 21,081 shares of the company's stock, valued at approximately $312,631.23. The sale was disclosed in a legal filing with the SEC, which is available through this link. Corporate insiders own 12.50% of the company's stock.
TRADEMARK VIOLATION WARNING: This article was first reported by American Banking News and is the property of of American Banking News. If you are viewing this article on another site, it was copied illegally and reposted in violation of US & international copyright & trademark laws. The correct version of this article can be viewed at https://www.americanbankingnews.com/2017/07/21/american-river-bankshares-nasdaqamrb-announces-quarterly-dividend-of-0-05.html.
Separately, Zacks Investment Research upgraded shares of American River Bankshares from a "hold" rating to a "buy" rating and set a $17.00 price objective on the stock in a report on Monday, April 10th.
About American River Bankshares
American River Bankshares is a bank holding company. The Company's banking subsidiary is American River Bank (the Bank). The Bank's primary business is serving the commercial banking needs of small to mid-sized businesses. The Bank accepts checking and savings deposits; offers money market deposit accounts and certificates of deposit; makes secured and unsecured commercial loans, secured real estate loans, and other installment and term loans, and offers other customary banking services.
Receive News & Ratings for American River Bankshares Daily - Enter your email address below to receive a concise daily summary of the latest news and analysts' ratings for American River Bankshares and related companies with MarketBeat.com's FREE daily email newsletter.