Kingfisher plc (KGF) Rating Reiterated by HSBC Holdings plc
Kingfisher plc (LON:KGF)'s stock had its "buy" rating reaffirmed by investment analysts at HSBC Holdings plc in a report released on Friday. They currently have a GBX 440 ($5.75) price target on the home improvement retailer's stock. HSBC Holdings plc's target price would suggest a potential upside of 44.64% from the company's current price.
KGF has been the subject of a number of other research reports. Barclays PLC reissued an "underweight" rating on shares of Kingfisher plc in a report on Monday, June 26th. Numis Securities Ltd raised Kingfisher plc to a "hold" rating and set a GBX 325 ($4.24) price objective for the company in a report on Thursday, March 23rd. Credit Suisse Group reaffirmed an "outperform" rating and issued a GBX 430 ($5.62) price objective on shares of Kingfisher plc in a report on Monday, March 27th. Jefferies Group LLC reaffirmed a "hold" rating and issued a GBX 325 ($4.24) price objective on shares of Kingfisher plc in a report on Tuesday, May 9th. Finally, Morgan Stanley raised Kingfisher plc to an "overweight" rating and lifted their price objective for the stock from GBX 290 ($3.79) to GBX 380 ($4.96) in a report on Wednesday, July 12th. Eight investment analysts have rated the stock with a sell rating, seven have given a hold rating and three have issued a buy rating to the stock. The company presently has a consensus rating of "Hold" and an average price target of GBX 330.19 ($4.31).
Kingfisher plc (LON KGF) opened at 302.20 on Friday. The stock's 50 day moving average price is GBX 306.58 and its 200-day moving average price is GBX 328.40. The stock's market cap is GBX 6.75 billion. Kingfisher plc has a 12 month low of GBX 269.60 and a 12 month high of GBX 390.60.
COPYRIGHT VIOLATION NOTICE: This report was originally reported by American Banking News and is owned by of American Banking News. If you are viewing this report on another domain, it was copied illegally and republished in violation of US & international trademark and copyright laws. The legal version of this report can be accessed at https://www.americanbankingnews.com/2017/07/21/kingfisher-plc-kgf-rating-reiterated-by-hsbc-holdings-plc.html.
In other news, insider Karen Witts sold 36,780 shares of the business's stock in a transaction dated Monday, July 3rd. The stock was sold at an average price of GBX 304 ($3.97), for a total value of £111,811.20 ($146,005.75). Insiders bought 143 shares of company stock worth $44,778 over the last 90 days.
Kingfisher plc Company Profile
Kingfisher plc is engaged in the supply of home improvement products and services through a network of retail stores and other channels, located mainly in the United Kingdom and continental Europe. The Company's segments include France, UK & Ireland, and Other International. The Other International segment consists of Poland, Spain, Portugal, Germany, Russia, Romania and the joint venture Koctas Yapi Marketleri Ticaret A.S.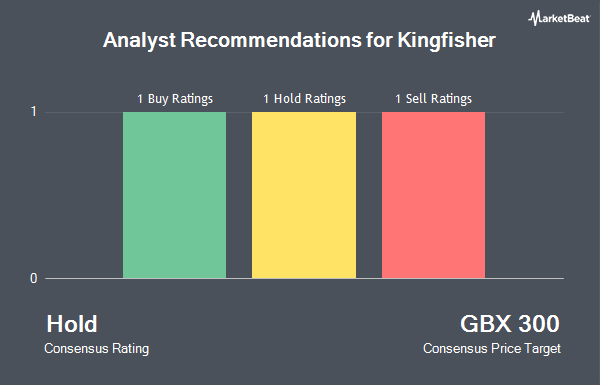 Receive News & Ratings for Kingfisher plc Daily - Enter your email address below to receive a concise daily summary of the latest news and analysts' ratings for Kingfisher plc and related companies with MarketBeat.com's FREE daily email newsletter.