Mobile Mini, Inc. to Issue Quarterly Dividend of $0.23 (MINI)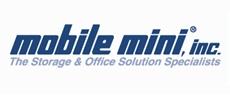 Mobile Mini, Inc. (NASDAQ:MINI) declared a quarterly dividend on Friday, July 21st, RTT News reports. Investors of record on Wednesday, August 16th will be paid a dividend of 0.227 per share by the industrial products company on Wednesday, August 30th. This represents a $0.91 dividend on an annualized basis and a dividend yield of 3.00%.
Shares of Mobile Mini (NASDAQ MINI) traded up 0.50% on Friday, hitting $30.40. The company had a trading volume of 93,862 shares. The firm has a 50-day moving average price of $29.41 and a 200 day moving average price of $30.04. The company has a market capitalization of $1.34 billion, a P/E ratio of 29.23 and a beta of 2.26. Mobile Mini has a 12-month low of $23.40 and a 12-month high of $37.37.
Mobile Mini (NASDAQ:MINI) last issued its earnings results on Friday, July 21st. The industrial products company reported $0.24 earnings per share (EPS) for the quarter, missing analysts' consensus estimates of $0.26 by $0.02. Mobile Mini had a return on equity of 7.67% and a net margin of 9.14%. The firm had revenue of $126.70 million during the quarter, compared to analyst estimates of $126.03 million. During the same period in the previous year, the company earned $0.25 EPS. Mobile Mini's revenue for the quarter was up 1.5% on a year-over-year basis. Equities analysts expect that Mobile Mini will post $1.26 EPS for the current year.
A number of research firms have recently commented on MINI. Zacks Investment Research lowered Mobile Mini from a "buy" rating to a "hold" rating in a report on Saturday, July 1st. BidaskClub raised Mobile Mini from a "hold" rating to a "buy" rating in a research note on Friday, June 30th. Three analysts have rated the stock with a hold rating and two have given a buy rating to the company's stock. The stock currently has a consensus rating of "Hold" and an average target price of $35.00.
WARNING: "Mobile Mini, Inc. to Issue Quarterly Dividend of $0.23 (MINI)" was originally published by American Banking News and is the property of of American Banking News. If you are viewing this story on another domain, it was stolen and reposted in violation of US and international trademark & copyright legislation. The legal version of this story can be accessed at https://www.americanbankingnews.com/2017/07/21/mobile-mini-inc-to-issue-quarterly-dividend-of-0-23-mini.html.
Mobile Mini Company Profile
Mobile Mini, Inc is a provider of portable storage solutions. The Company, through its subsidiary, Evergreen Tank Solutions, Inc (ETS), is a provider of specialty containment solutions in the United States. The Company manages its business as two portable storage solutions business segments, North America and the U.K., and one specialty containment business segment.
Receive News & Ratings for Mobile Mini Inc. Daily - Enter your email address below to receive a concise daily summary of the latest news and analysts' ratings for Mobile Mini Inc. and related companies with MarketBeat.com's FREE daily email newsletter.