AVEVA Group plc (LON:AVV) Stock Rating Reaffirmed by Credit Suisse Group

AVEVA Group plc (LON:AVV)'s stock had its "outperform" rating restated by equities researchers at Credit Suisse Group in a research note issued to investors on Friday.
A number of other analysts also recently weighed in on the stock. J P Morgan Chase & Co increased their price target on shares of AVEVA Group plc from GBX 1,750 ($22.85) to GBX 1,950 ($25.46) and gave the company a "neutral" rating in a report on Thursday, April 20th. Numis Securities Ltd reissued an "add" rating and issued a GBX 2,180 ($28.47) price target on shares of AVEVA Group plc in a report on Wednesday, April 19th. Finally, Barclays PLC reissued an "equal weight" rating and issued a GBX 1,450 ($18.93) price target on shares of AVEVA Group plc in a report on Tuesday, April 11th. One equities research analyst has rated the stock with a sell rating, five have given a hold rating and three have given a buy rating to the company's stock. AVEVA Group plc presently has a consensus rating of "Hold" and a consensus target price of GBX 1,980 ($25.86).
Shares of AVEVA Group plc (AVV) opened at 2120.00 on Friday. AVEVA Group plc has a 52-week low of GBX 1,655.00 and a 52-week high of GBX 2,168.00. The stock has a 50 day moving average of GBX 2,003.78 and a 200 day moving average of GBX 1,970.21. The company's market cap is GBX 1.36 billion.
COPYRIGHT VIOLATION WARNING: This news story was originally reported by American Banking News and is the sole property of of American Banking News. If you are reading this news story on another site, it was copied illegally and reposted in violation of United States and international trademark and copyright laws. The correct version of this news story can be viewed at https://www.americanbankingnews.com/2017/07/23/aveva-group-plc-lonavv-stock-rating-reaffirmed-by-credit-suisse-group.html.
AVEVA Group plc Company Profile
AVEVA Group plc is a holding company. The Company provides engineering, design and information management software. It operates in three segments: Asia Pacific, Americas, and Europe, Middle East and Africa (EMEA). Its engineer products include AVEVA Diagrams, AVEVA Electrical, AVEVA Engineering and AVEVA Instrumentation.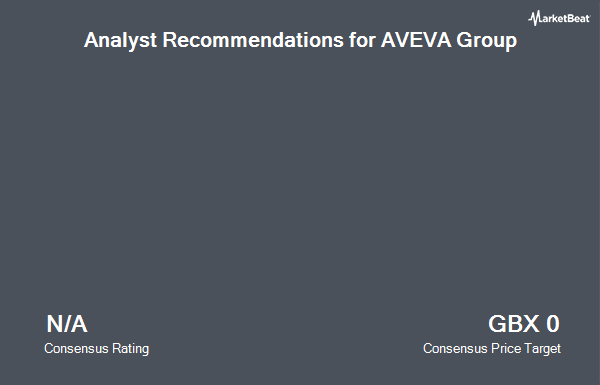 Receive News & Ratings for AVEVA Group plc Daily - Enter your email address below to receive a concise daily summary of the latest news and analysts' ratings for AVEVA Group plc and related companies with MarketBeat.com's FREE daily email newsletter.