TransAlta Renewables Inc (TSE:RNW) Given Average Rating of "Hold" by Brokerages

TransAlta Renewables Inc (TSE:RNW) has received an average rating of "Hold" from the seven analysts that are currently covering the company, MarketBeat reports. Five analysts have rated the stock with a hold rating. The average 12 month price objective among brokerages that have updated their coverage on the stock in the last year is C$15.00.
RNW has been the subject of a number of recent analyst reports. Raymond James Financial, Inc. lowered TransAlta Renewables from an "outperform" rating to a "market perform" rating in a report on Thursday, April 20th. TD Securities lowered TransAlta Renewables from a "buy" rating to a "hold" rating and lifted their target price for the company from C$15.00 to C$16.00 in a report on Thursday, May 4th. Finally, National Bank Financial lifted their target price on TransAlta Renewables from C$14.50 to C$15.00 in a report on Tuesday, April 11th.
Shares of TransAlta Renewables (TSE RNW) traded down 0.07% during midday trading on Monday, reaching $14.57. 392,662 shares of the company's stock were exchanged. The company has a market cap of $3.26 billion and a P/E ratio of 53.37. TransAlta Renewables has a 12 month low of $12.66 and a 12 month high of $16.25. The firm has a 50 day moving average price of $15.59 and a 200 day moving average price of $15.35.
The firm also recently disclosed a monthly dividend, which will be paid on Thursday, August 31st. Stockholders of record on Thursday, August 31st will be issued a dividend of $0.0733 per share. This represents a $0.88 annualized dividend and a dividend yield of 6.04%. The ex-dividend date is Friday, July 28th.
COPYRIGHT VIOLATION WARNING: This report was originally reported by American Banking News and is the sole property of of American Banking News. If you are viewing this report on another publication, it was illegally copied and reposted in violation of United States & international trademark & copyright laws. The legal version of this report can be viewed at https://www.americanbankingnews.com/2017/07/24/transalta-renewables-inc-tsernw-given-average-rating-of-hold-by-brokerages.html.
About TransAlta Renewables
TransAlta Renewables Inc is a Canada-based company engaged in developing, owning and operating renewable power generation facilities. The Company owns and operates over 10 hydro facilities and approximately 20 wind farms in Western and Eastern Canada with a total installed capacity of approximately 1,140 megawatts (MW) and holds economic interest in approximately 140 MW Wyoming Wind Farm and approximately 420 MW Australian gas-fired generation assets, as well as over 270 kilometers gas pipeline.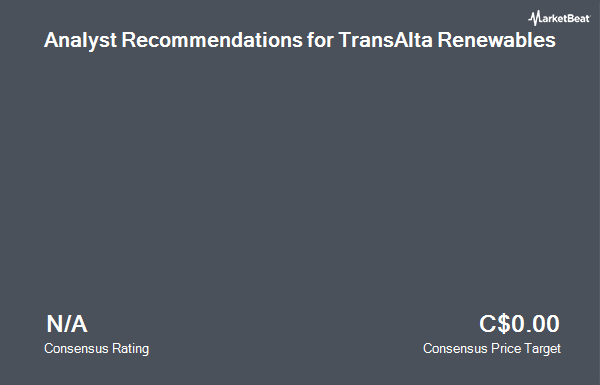 Receive News & Ratings for TransAlta Renewables Inc Daily - Enter your email address below to receive a concise daily summary of the latest news and analysts' ratings for TransAlta Renewables Inc and related companies with MarketBeat.com's FREE daily email newsletter.