Alamos Gold Inc Expected to Post Q2 2017 Earnings of $0.03 Per Share (AGI)
Alamos Gold Inc (TSE:AGI) (NYSE:AGI) – Equities researchers at National Bank Financial issued their Q2 2017 EPS estimates for shares of Alamos Gold in a research report issued to clients and investors on Sunday. National Bank Financial analyst M. Parkin anticipates that the company will earn $0.03 per share for the quarter. National Bank Financial has a "Outperform Market Weight" rating on the stock.
COPYRIGHT VIOLATION WARNING: "Alamos Gold Inc Expected to Post Q2 2017 Earnings of $0.03 Per Share (AGI)" was originally reported by American Banking News and is the property of of American Banking News. If you are reading this piece of content on another website, it was copied illegally and republished in violation of U.S. & international copyright and trademark law. The original version of this piece of content can be viewed at https://www.americanbankingnews.com/2017/07/25/alamos-gold-inc-expected-to-post-q2-2017-earnings-of-0-03-per-share-agi.html.
Separately, TD Securities raised shares of Alamos Gold from a "hold" rating to a "buy" rating and set a C$12.50 price objective on the stock in a research report on Friday, May 5th. Three investment analysts have rated the stock with a hold rating and four have assigned a buy rating to the company's stock. The stock has an average rating of "Buy" and a consensus target price of C$12.78.
Shares of Alamos Gold (TSE:AGI) opened at 8.50 on Tuesday. The company's market capitalization is $2.54 billion. The company has a 50 day moving average price of $9.13 and a 200 day moving average price of $9.89. Alamos Gold has a 1-year low of $7.86 and a 1-year high of $12.70.
In other Alamos Gold news, insider James Porter acquired 4,410 shares of the company's stock in a transaction dated Wednesday, May 24th. The shares were purchased at an average cost of C$8.31 per share, for a total transaction of C$36,647.10.
About Alamos Gold
Alamos Gold Inc is a Canada-based company, which is engaged in the acquisition, exploration, development and extraction of precious metals. The Company's segments include Young-Davidson, Mulatos, El Chanate and Corporate/other. Its Corporate and other segment consists of exploration and development projects.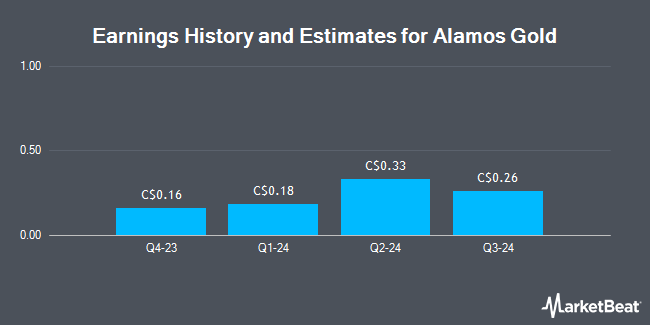 Receive News & Ratings for Alamos Gold Inc Daily - Enter your email address below to receive a concise daily summary of the latest news and analysts' ratings for Alamos Gold Inc and related companies with MarketBeat.com's FREE daily email newsletter.