Bonterra Energy Corp (TSE:BNE) Receives Average Recommendation of "Buy" from Analysts

Bonterra Energy Corp (TSE:BNE) has been given a consensus recommendation of "Buy" by the twelve brokerages that are presently covering the firm, MarketBeat reports. Three investment analysts have rated the stock with a hold rating and four have given a buy rating to the company. The average 12 month price objective among brokers that have issued ratings on the stock in the last year is C$29.83.
Separately, Raymond James Financial, Inc. dropped their price target on shares of Bonterra Energy Corp from C$31.00 to C$29.00 and set an "outperform" rating for the company in a research note on Thursday, May 11th.
ILLEGAL ACTIVITY WARNING: "Bonterra Energy Corp (TSE:BNE) Receives Average Recommendation of "Buy" from Analysts" was first posted by American Banking News and is the property of of American Banking News. If you are accessing this piece of content on another domain, it was illegally copied and republished in violation of United States and international trademark and copyright law. The correct version of this piece of content can be read at https://www.americanbankingnews.com/2017/07/25/bonterra-energy-corp-tsebne-receives-average-recommendation-of-buy-from-analysts.html.
In other news, insider George Frederick Fink acquired 8,700 shares of the firm's stock in a transaction that occurred on Wednesday, May 24th. The stock was purchased at an average price of C$18.44 per share, for a total transaction of C$160,428.00. In the last 90 days, insiders have purchased 49,850 shares of company stock valued at $843,326.
Shares of Bonterra Energy Corp (BNE) traded up 5.85% during mid-day trading on Tuesday, reaching $17.02. 107,590 shares of the company were exchanged. Bonterra Energy Corp has a 12 month low of $14.53 and a 12 month high of $29.76. The firm has a 50-day moving average price of $16.11 and a 200 day moving average price of $20.71. The stock's market capitalization is $566.94 million.
The company also recently disclosed a monthly dividend, which will be paid on Monday, July 31st. Investors of record on Monday, July 31st will be issued a dividend of $0.10 per share. This represents a $1.20 dividend on an annualized basis and a yield of 7.05%. The ex-dividend date is Wednesday, July 12th.
About Bonterra Energy Corp
Bonterra Energy Corp. (Bonterra) is an oil and gas company. The Company is focused on the development of its Cardium land within the Pembina and Willesden Green areas located in central Alberta. The Company is engaged in the development and production of oil and natural gas in the Western Canadian Sedimentary Basin.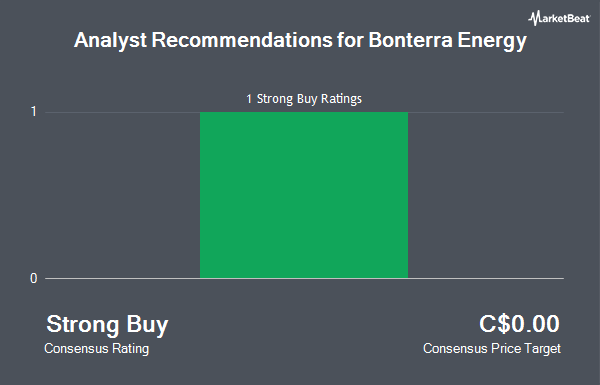 Receive News & Ratings for Bonterra Energy Corp Daily - Enter your email address below to receive a concise daily summary of the latest news and analysts' ratings for Bonterra Energy Corp and related companies with MarketBeat.com's FREE daily email newsletter.