Highwoods Properties, Inc. (HIW) Releases FY17 Earnings Guidance

Highwoods Properties, Inc. (NYSE:HIW) updated its FY17 earnings guidance on Tuesday. The company provided earnings per share (EPS) guidance of $3.33-3.38 for the period, compared to the Thomson Reuters consensus estimate of $3.36.
Several research firms have commented on HIW. BidaskClub cut Highwoods Properties from a hold rating to a sell rating in a report on Wednesday, July 12th. Stifel Nicolaus reaffirmed a buy rating and issued a $55.00 price target on shares of Highwoods Properties in a report on Wednesday, April 19th. Finally, ValuEngine raised Highwoods Properties from a hold rating to a buy rating in a report on Thursday, May 11th. One research analyst has rated the stock with a sell rating, four have assigned a hold rating and three have assigned a buy rating to the stock. Highwoods Properties has an average rating of Hold and a consensus price target of $56.40.
Highwoods Properties, Inc. (HIW) traded down 0.06% during trading on Tuesday, reaching $50.18. The company's stock had a trading volume of 686,889 shares. Highwoods Properties, Inc. has a 52-week low of $45.83 and a 52-week high of $56.23. The stock has a market cap of $5.12 billion, a P/E ratio of 41.51 and a beta of 0.88. The firm's 50-day moving average is $51.02 and its 200-day moving average is $50.85.
Highwoods Properties (NYSE:HIW) last issued its quarterly earnings data on Tuesday, July 25th. The real estate investment trust reported $0.90 earnings per share (EPS) for the quarter, topping analysts' consensus estimates of $0.31 by $0.59. Highwoods Properties had a return on equity of 5.80% and a net margin of 18.29%. The company had revenue of $177.28 million during the quarter, compared to analysts' expectations of $172.28 million. During the same quarter in the previous year, the company posted $0.32 earnings per share. The business's revenue was up 6.2% on a year-over-year basis. Equities research analysts forecast that Highwoods Properties, Inc. will post $1.18 EPS for the current year.
In other news, COO Theodore J. Klinck sold 10,000 shares of Highwoods Properties stock in a transaction that occurred on Thursday, June 15th. The shares were sold at an average price of $52.51, for a total value of $525,100.00. Following the completion of the sale, the chief operating officer now directly owns 63,194 shares in the company, valued at $3,318,316.94. The transaction was disclosed in a document filed with the SEC, which can be accessed through this link. 1.90% of the stock is currently owned by insiders.
TRADEMARK VIOLATION WARNING: This piece of content was originally reported by American Banking News and is the sole property of of American Banking News. If you are accessing this piece of content on another website, it was illegally copied and reposted in violation of international trademark & copyright laws. The original version of this piece of content can be accessed at https://www.americanbankingnews.com/2017/07/25/highwoods-properties-inc-hiw-releases-fy17-earnings-guidance.html.
Highwoods Properties Company Profile
Highwoods Properties, Inc is an office real estate investment trust (REIT). The Company's primary business is the operation, acquisition and development of office properties. The Company's segments include Office and Other. The Company owns, develops, acquires, leases and manages properties primarily in the best business districts (BBDs) of Atlanta, Greensboro, Memphis, Nashville, Orlando, Pittsburgh, Raleigh, Richmond and Tampa.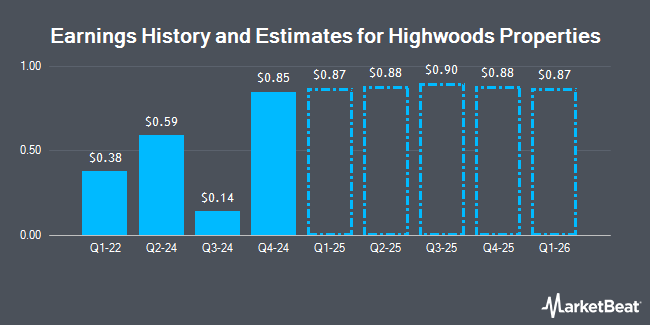 Receive News & Ratings for Highwoods Properties Inc. Daily - Enter your email address below to receive a concise daily summary of the latest news and analysts' ratings for Highwoods Properties Inc. and related companies with MarketBeat.com's FREE daily email newsletter.