EnPro Industries (NYSE:NPO) Announces Quarterly Dividend of $0.22
EnPro Industries (NYSE:NPO) announced a quarterly dividend on Wednesday, July 26th, RTT News reports. Investors of record on Wednesday, September 6th will be paid a dividend of 0.22 per share by the industrial products company on Wednesday, September 20th. This represents a $0.88 dividend on an annualized basis and a yield of 1.21%.
EnPro Industries has a payout ratio of 49.2% indicating that its dividend is sufficiently covered by earnings. Research analysts expect EnPro Industries to earn $3.21 per share next year, which means the company should continue to be able to cover its $0.88 annual dividend with an expected future payout ratio of 27.4%.
Shares of EnPro Industries (NYSE:NPO) traded down 0.49% during mid-day trading on Wednesday, reaching $72.88. 79,289 shares of the company were exchanged. The company has a market capitalization of $1.56 billion, a price-to-earnings ratio of 119.67 and a beta of 1.08. The firm's 50-day moving average is $71.52 and its 200-day moving average is $68.33. EnPro Industries has a 12 month low of $45.35 and a 12 month high of $75.71.
EnPro Industries (NYSE:NPO) last released its earnings results on Monday, May 1st. The industrial products company reported $0.44 earnings per share (EPS) for the quarter, missing analysts' consensus estimates of $0.62 by $0.18. EnPro Industries had a return on equity of 9.43% and a net margin of 1.10%. The company had revenue of $295.80 million during the quarter, compared to analysts' expectations of $303.63 million. During the same quarter in the previous year, the company earned ($2.15) EPS. The firm's quarterly revenue was up .3% compared to the same quarter last year. On average, equities analysts forecast that EnPro Industries will post $2.67 earnings per share for the current fiscal year.
WARNING: This piece was originally reported by American Banking News and is owned by of American Banking News. If you are reading this piece on another domain, it was illegally copied and reposted in violation of U.S. and international copyright & trademark law. The correct version of this piece can be viewed at https://www.americanbankingnews.com/2017/07/26/enpro-industries-nysenpo-announces-quarterly-dividend-of-0-22.html.
In other news, insider Stephen E. Macadam sold 15,000 shares of the firm's stock in a transaction on Thursday, May 4th. The shares were sold at an average price of $72.21, for a total transaction of $1,083,150.00. Following the transaction, the insider now owns 234,447 shares in the company, valued at approximately $16,929,417.87. The transaction was disclosed in a legal filing with the Securities & Exchange Commission, which can be accessed through the SEC website. Also, VP Steven R. Bower purchased 1,000 shares of the business's stock in a transaction dated Thursday, May 11th. The shares were acquired at an average price of $71.51 per share, for a total transaction of $71,510.00. The disclosure for this purchase can be found here. 2.60% of the stock is currently owned by company insiders.
A number of research firms have recently weighed in on NPO. BidaskClub downgraded shares of EnPro Industries from a "buy" rating to a "hold" rating in a report on Wednesday, July 19th. FBR & Co restated an "outperform" rating on shares of EnPro Industries in a report on Tuesday, July 11th. Finally, Zacks Investment Research upgraded shares of EnPro Industries from a "sell" rating to a "hold" rating in a report on Friday, May 26th.
EnPro Industries Company Profile
EnPro Industries, Inc is engaged in the designing, developing, manufacturing and marketing engineered industrial products. It operates through three segments. The Sealing Products segment includes three operating divisions: Garlock, which designs, manufactures and sells sealing products; Technetics, which designs, manufactures and sells metal seals and elastomeric seals, among others, and Stemco LP (Stemco), which designs, manufactures and sells heavy-duty truck wheel-end components and systems.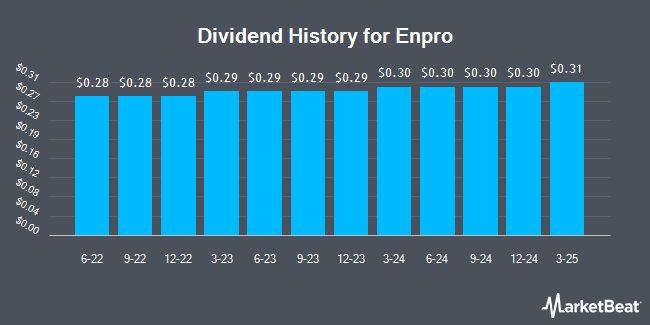 Receive News & Ratings for EnPro Industries Daily - Enter your email address below to receive a concise daily summary of the latest news and analysts' ratings for EnPro Industries and related companies with MarketBeat.com's FREE daily email newsletter.