Ford Motor Company (NYSE:F) Updates FY17 Earnings Guidance
Ford Motor Company (NYSE:F) updated its FY17 earnings guidance on Wednesday. The company provided EPS guidance of $1.65-1.85 for the period, compared to the Thomson Reuters consensus EPS estimate of $1.51.
A number of equities analysts have recently weighed in on the company. Tigress Financial restated a buy rating on shares of Ford Motor in a research note on Thursday, March 30th. Zacks Investment Research lowered Ford Motor from a hold rating to a strong sell rating in a research report on Wednesday, March 29th. Vetr lowered Ford Motor from a strong-buy rating to a buy rating and set a $12.78 target price for the company. in a research report on Tuesday, July 4th. BidaskClub raised Ford Motor from a sell rating to a hold rating in a research report on Wednesday, July 5th. Finally, Nomura reaffirmed a buy rating and issued a $14.80 target price on shares of Ford Motor in a research report on Tuesday, May 2nd. Three research analysts have rated the stock with a sell rating, eleven have assigned a hold rating, twelve have assigned a buy rating and one has issued a strong buy rating to the company. The stock presently has a consensus rating of Hold and an average target price of $13.43.
Shares of Ford Motor Company (NYSE:F) traded down 2.174% during mid-day trading on Wednesday, reaching $11.025. The company had a trading volume of 19,592,259 shares. The stock has a market capitalization of $43.90 billion, a P/E ratio of 11.741 and a beta of 1.11. The firm's 50 day moving average is $11.31 and its 200-day moving average is $11.74. Ford Motor Company has a 12-month low of $10.67 and a 12-month high of $13.99. Ford Motor also was the target of unusually large options trading activity on Monday. Traders acquired 17,842 put options on the company. This is an increase of 122% compared to the typical daily volume of 8,031 put options.
Ford Motor (NYSE:F) last released its quarterly earnings data on Wednesday, July 26th. The auto manufacturer reported $0.56 EPS for the quarter, topping the consensus estimate of $0.43 by $0.13. The business had revenue of $36.93 billion for the quarter, compared to analyst estimates of $37.22 billion. Ford Motor had a net margin of 2.48% and a return on equity of 19.36%. The business's revenue for the quarter was down .5% compared to the same quarter last year. During the same period in the previous year, the firm earned $0.52 EPS. On average, analysts expect that Ford Motor Company will post $1.51 earnings per share for the current fiscal year.
The business also recently disclosed a quarterly dividend, which will be paid on Friday, September 1st. Stockholders of record on Monday, July 24th will be paid a dividend of $0.15 per share. This represents a $0.60 dividend on an annualized basis and a dividend yield of 5.32%. The ex-dividend date of this dividend is Thursday, July 20th. Ford Motor's dividend payout ratio is currently 64.52%.
In other Ford Motor news, insider James D. Farley, Jr. sold 25,000 shares of the stock in a transaction that occurred on Monday, June 12th. The shares were sold at an average price of $11.16, for a total value of $279,000.00. Following the completion of the sale, the insider now owns 428,411 shares of the company's stock, valued at $4,781,066.76. The sale was disclosed in a filing with the Securities & Exchange Commission, which can be accessed through this hyperlink. 1.08% of the stock is currently owned by corporate insiders.
COPYRIGHT VIOLATION WARNING: "Ford Motor Company (NYSE:F) Updates FY17 Earnings Guidance" was originally reported by American Banking News and is the sole property of of American Banking News. If you are viewing this article on another website, it was illegally stolen and republished in violation of U.S. & international copyright legislation. The legal version of this article can be accessed at https://www.americanbankingnews.com/2017/07/26/ford-motor-company-nysef-updates-fy17-earnings-guidance.html.
About Ford Motor
Ford Motor Company is a global automotive and mobility company. The Company's business includes designing, manufacturing, marketing, and servicing a full line of Ford cars, trucks, and sport utility vehicles (SUVs), as well as Lincoln luxury vehicles. The Company operates in four segments: Automotive, Financial Services, Ford Smart Mobility LLC, and Central Treasury Operations.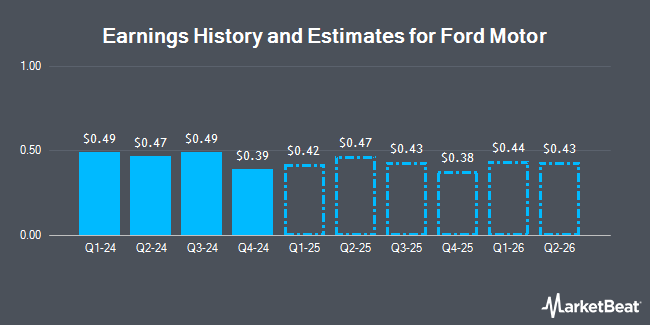 Receive News & Ratings for Ford Motor Company Daily - Enter your email address below to receive a concise daily summary of the latest news and analysts' ratings for Ford Motor Company and related companies with MarketBeat.com's FREE daily email newsletter.