NETGEAR, Inc. (NASDAQ:NTGR) Posts Earnings Results, Beats Expectations By $0.06 EPS
NETGEAR, Inc. (NASDAQ:NTGR) issued its quarterly earnings data on Wednesday. The communications equipment provider reported $0.60 earnings per share (EPS) for the quarter, topping the Zacks' consensus estimate of $0.54 by $0.06, Bloomberg Earnings reports. NETGEAR had a return on equity of 11.30% and a net margin of 5.61%. The company had revenue of $330.72 million for the quarter, compared to the consensus estimate of $324.64 million. During the same quarter last year, the business posted $0.72 earnings per share. The firm's revenue was up 6.1% compared to the same quarter last year.
Shares of NETGEAR (NASDAQ NTGR) traded down 0.79% on Wednesday, hitting $44.10. The stock had a trading volume of 761,675 shares. The stock has a market cap of $1.43 billion, a PE ratio of 19.88 and a beta of 1.53. The company has a 50 day moving average price of $44.03 and a 200-day moving average price of $49.36. NETGEAR has a 12 month low of $41.50 and a 12 month high of $60.82.
NTGR has been the topic of a number of research reports. Zacks Investment Research upgraded NETGEAR from a "sell" rating to a "hold" rating in a research report on Wednesday, April 12th. Global Equities Research restated a "buy" rating and set a $85.00 price target on shares of NETGEAR in a research report on Tuesday, June 13th. One analyst has rated the stock with a sell rating, three have issued a hold rating, four have assigned a buy rating and one has given a strong buy rating to the stock. The stock presently has a consensus rating of "Buy" and an average price target of $62.48.
ILLEGAL ACTIVITY NOTICE: "NETGEAR, Inc. (NASDAQ:NTGR) Posts Earnings Results, Beats Expectations By $0.06 EPS" was published by American Banking News and is owned by of American Banking News. If you are reading this news story on another domain, it was copied illegally and republished in violation of US & international copyright and trademark law. The correct version of this news story can be viewed at https://www.americanbankingnews.com/2017/07/26/netgear-inc-nasdaqntgr-posts-earnings-results-beats-expectations-by-0-06-eps.html.
In other NETGEAR news, CEO Patrick Cs Lo sold 9,900 shares of the company's stock in a transaction dated Monday, May 1st. The shares were sold at an average price of $46.79, for a total value of $463,221.00. Following the transaction, the chief executive officer now directly owns 155,418 shares in the company, valued at approximately $7,272,008.22. The sale was disclosed in a legal filing with the Securities & Exchange Commission, which is available through this hyperlink. Also, SVP Michael A. Werdann sold 8,153 shares of the company's stock in a transaction dated Monday, July 3rd. The stock was sold at an average price of $43.01, for a total transaction of $350,660.53. Following the completion of the transaction, the senior vice president now owns 30,092 shares in the company, valued at $1,294,256.92. The disclosure for this sale can be found here. Insiders sold a total of 45,174 shares of company stock worth $2,016,086 over the last 90 days. Insiders own 6.20% of the company's stock.
NETGEAR declared that its Board of Directors has initiated a share buyback plan on Wednesday, April 26th that authorizes the company to buyback 3,000,000 outstanding shares. This buyback authorization authorizes the communications equipment provider to repurchase shares of its stock through open market purchases. Shares buyback plans are usually a sign that the company's management believes its shares are undervalued.
NETGEAR Company Profile
NETGEAR, Inc designs, develops and markets networking solutions and smart connected products for consumers, businesses and service providers. The Company's product line consists of devices, such as network attached storage, Internet protocol (IP) security cameras, and home automation devices and services.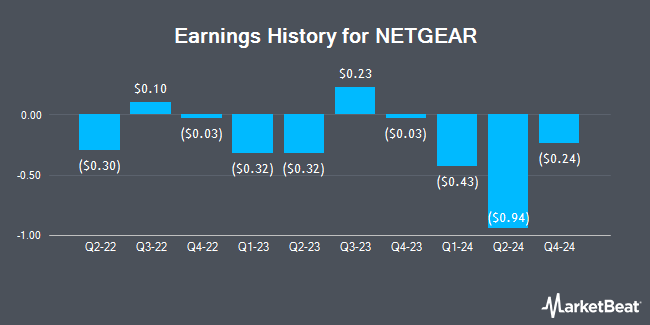 Receive News & Ratings for NETGEAR Inc. Daily - Enter your email address below to receive a concise daily summary of the latest news and analysts' ratings for NETGEAR Inc. and related companies with MarketBeat.com's FREE daily email newsletter.