NutriSystem Inc (NASDAQ:NTRI) Updates FY17 Earnings Guidance
NutriSystem Inc (NASDAQ:NTRI) updated its FY17 earnings guidance on Wednesday. The company provided earnings per share guidance of $1.84-$1.94 for the period, compared to the Thomson Reuters consensus earnings per share estimate of $1.71. The company issued revenue guidance of $684-$694 million, compared to the consensus revenue estimate of $660.50 million.NutriSystem also updated its Q3 guidance to $0.42-$0.47 EPS.
A number of research firms have issued reports on NTRI. DA Davidson reiterated a buy rating and set a $64.00 price target on shares of NutriSystem in a research note on Monday, May 8th. Sidoti upgraded NutriSystem from a neutral rating to a buy rating and set a $60.00 price target for the company in a research note on Monday, June 12th. BidaskClub upgraded NutriSystem from a hold rating to a buy rating in a research note on Saturday, June 24th. Zacks Investment Research downgraded NutriSystem from a strong-buy rating to a hold rating in a research note on Wednesday, June 28th. Finally, Craig Hallum set a $70.00 price target on NutriSystem and gave the company a buy rating in a research note on Tuesday, July 18th. Four investment analysts have rated the stock with a hold rating, six have assigned a buy rating and one has issued a strong buy rating to the stock. The stock presently has a consensus rating of Buy and an average price target of $55.80.
Shares of NutriSystem Inc (NASDAQ:NTRI) traded up 2.11% during trading on Wednesday, hitting $62.95. The stock had a trading volume of 575,415 shares. The firm has a market cap of $1.87 billion, a PE ratio of 46.73 and a beta of 1.11. The stock has a 50 day moving average of $52.59 and a 200 day moving average of $47.75. NutriSystem Inc has a 52-week low of $25.82 and a 52-week high of $63.60.
NutriSystem (NASDAQ:NTRI) last announced its earnings results on Wednesday, April 26th. The company reported $0.25 earnings per share for the quarter, beating the Zacks' consensus estimate of $0.17 by $0.08. NutriSystem had a net margin of 6.78% and a return on equity of 44.63%. The business had revenue of $212.68 million during the quarter, compared to the consensus estimate of $202.87 million. During the same quarter last year, the firm earned $0.13 earnings per share. The business's revenue for the quarter was up 31.2% on a year-over-year basis. On average, equities analysts anticipate that NutriSystem Inc will post $1.69 EPS for the current year.
The firm also recently announced a quarterly dividend, which will be paid on Thursday, August 17th. Shareholders of record on Monday, August 7th will be paid a dividend of $0.175 per share. This represents a $0.70 dividend on an annualized basis and a dividend yield of 1.11%. NutriSystem's dividend payout ratio is 51.85%.
In other news, Director Brian Tierney sold 2,147 shares of the stock in a transaction that occurred on Thursday, May 4th. The shares were sold at an average price of $48.61, for a total transaction of $104,365.67. The transaction was disclosed in a legal filing with the SEC, which is accessible through this hyperlink. Also, insider Dawn M. Zier sold 30,000 shares of the stock in a transaction that occurred on Wednesday, May 10th. The shares were sold at an average price of $49.65, for a total transaction of $1,489,500.00. Following the sale, the insider now owns 217,289 shares in the company, valued at approximately $10,788,398.85. The disclosure for this sale can be found here. Insiders have sold 118,654 shares of company stock valued at $6,030,384 in the last ninety days. Insiders own 2.40% of the company's stock.
COPYRIGHT VIOLATION WARNING: This piece of content was originally posted by American Banking News and is the property of of American Banking News. If you are viewing this piece of content on another website, it was stolen and republished in violation of international copyright and trademark laws. The correct version of this piece of content can be read at https://www.americanbankingnews.com/2017/07/26/nutrisystem-inc-nasdaqntri-updates-fy17-earnings-guidance.html.
About NutriSystem
Nutrisystem, Inc is a provider of weight management products and services, including nutritionally balanced weight loss programs, multi-day kits available at retail locations and digital tools to support weight loss. The Company's program customers purchase monthly food packages containing four-week meal plan consisting supply of breakfasts, lunches, dinners and snacks and flex meal plan recipes, which they supplement with fresh fruits, vegetables and dairy.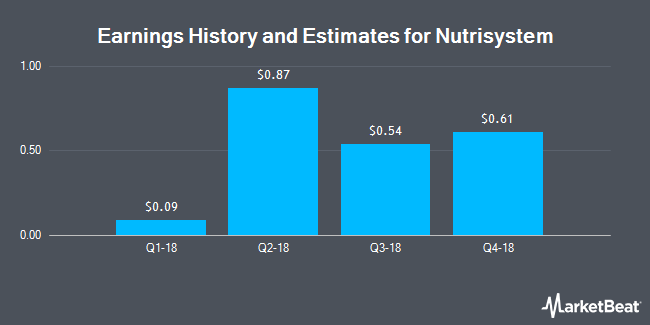 Receive News & Ratings for NutriSystem Inc Daily - Enter your email address below to receive a concise daily summary of the latest news and analysts' ratings for NutriSystem Inc and related companies with MarketBeat.com's FREE daily email newsletter.