Zacks: Brokerages Anticipate ADMA Biologics Inc (NASDAQ:ADMA) Will Announce Quarterly Sales of $3.52 Million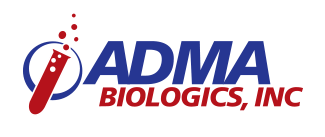 Analysts expect ADMA Biologics Inc (NASDAQ:ADMA) to report sales of $3.52 million for the current quarter, Zacks Investment Research reports. Two analysts have made estimates for ADMA Biologics' earnings, with the highest sales estimate coming in at $3.94 million and the lowest estimate coming in at $3.10 million. ADMA Biologics reported sales of $2.27 million in the same quarter last year, which would suggest a positive year-over-year growth rate of 55.1%. The firm is expected to report its next quarterly earnings report on Friday, August 11th.
According to Zacks, analysts expect that ADMA Biologics will report full year sales of $3.52 million for the current fiscal year, with estimates ranging from $19.75 million to $20.10 million. For the next financial year, analysts expect that the company will post sales of $38.71 million per share, with estimates ranging from $28.32 million to $49.10 million. Zacks' sales calculations are an average based on a survey of sell-side research firms that cover ADMA Biologics.
ADMA Biologics (NASDAQ:ADMA) last released its quarterly earnings data on Friday, May 12th. The biotechnology company reported ($0.51) earnings per share for the quarter, missing analysts' consensus estimates of ($0.28) by $0.23. The business had revenue of $2.63 million during the quarter, compared to the consensus estimate of $3.35 million.
ADMA has been the topic of a number of analyst reports. Maxim Group set a $13.00 target price on shares of ADMA Biologics and gave the stock a "buy" rating in a research report on Monday, May 15th. ValuEngine lowered shares of ADMA Biologics from a "sell" rating to a "strong sell" rating in a research report on Friday, June 2nd.
ILLEGAL ACTIVITY WARNING: This article was first posted by American Banking News and is owned by of American Banking News. If you are accessing this article on another website, it was illegally stolen and reposted in violation of United States and international copyright and trademark law. The correct version of this article can be accessed at https://www.americanbankingnews.com/2017/07/26/zacks-brokerages-anticipate-adma-biologics-inc-nasdaqadma-will-announce-quarterly-sales-of-3-52-million.html.
Shares of ADMA Biologics (NASDAQ ADMA) opened at 3.64 on Wednesday. The firm's 50-day moving average price is $3.47 and its 200-day moving average price is $4.36. ADMA Biologics has a 12-month low of $2.93 and a 12-month high of $8.00. The firm's market capitalization is $46.91 million.
ADMA Biologics Company Profile
ADMA Biologics, Inc is a late-stage biopharmaceutical company that develops, manufactures and intends to market specialty plasma-based biologics for the treatment and prevention of infectious diseases. The Company is engaged in the development and commercialization of human plasma and plasma-derived therapeutics.
Get a free copy of the Zacks research report on ADMA Biologics (ADMA)
For more information about research offerings from Zacks Investment Research, visit Zacks.com
Receive News & Ratings for ADMA Biologics Inc Daily - Enter your email address below to receive a concise daily summary of the latest news and analysts' ratings for ADMA Biologics Inc and related companies with MarketBeat.com's FREE daily email newsletter.