Amedisys Inc (NASDAQ:AMED) Releases Earnings Results, Beats Estimates By $0.12 EPS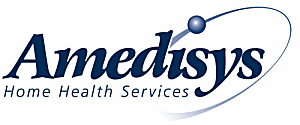 Amedisys Inc (NASDAQ:AMED) announced its earnings results on Wednesday. The health services provider reported $0.62 EPS for the quarter, topping the Zacks' consensus estimate of $0.50 by $0.12, Bloomberg Earnings reports. The firm had revenue of $378.80 million during the quarter, compared to analysts' expectations of $380.80 million. Amedisys had a return on equity of 12.60% and a net margin of 3.16%. The company's quarterly revenue was up 5.0% on a year-over-year basis. During the same quarter in the previous year, the business earned $0.42 EPS.
Amedisys (AMED) traded down 3.51% on Thursday, hitting $46.98. The stock had a trading volume of 2,498,619 shares. The firm's 50-day moving average is $61.28 and its 200-day moving average is $54.05. Amedisys has a 52-week low of $34.58 and a 52-week high of $65.91. The company has a market cap of $1.58 billion, a P/E ratio of 34.80 and a beta of 0.94.
TRADEMARK VIOLATION WARNING: This piece was first published by American Banking News and is the property of of American Banking News. If you are viewing this piece on another website, it was stolen and reposted in violation of US and international trademark and copyright legislation. The legal version of this piece can be accessed at https://www.americanbankingnews.com/2017/07/27/amedisys-inc-nasdaqamed-releases-earnings-results-beats-estimates-by-0-12-eps.html.
In related news, Director Jake L. Netterville sold 10,000 shares of Amedisys stock in a transaction on Friday, May 12th. The stock was sold at an average price of $60.00, for a total value of $600,000.00. Following the completion of the transaction, the director now directly owns 77,499 shares in the company, valued at $4,649,940. The transaction was disclosed in a document filed with the SEC, which is available at the SEC website. Also, Director Bruce D. Perkins bought 500 shares of the firm's stock in a transaction that occurred on Thursday, May 25th. The stock was bought at an average price of $59.69 per share, with a total value of $29,845.00. Following the completion of the acquisition, the director now owns 13,331 shares of the company's stock, valued at approximately $795,727.39. The disclosure for this purchase can be found here. Over the last quarter, insiders sold 56,828 shares of company stock valued at $3,350,922. 2.80% of the stock is currently owned by company insiders.
AMED has been the subject of a number of recent research reports. Zacks Investment Research cut Amedisys from a "buy" rating to a "hold" rating in a report on Tuesday, May 2nd. Jefferies Group LLC restated a "buy" rating and set a $57.00 price objective on shares of Amedisys in a report on Friday, April 28th. Mizuho upgraded Amedisys from a "neutral" rating to a "buy" rating and set a $65.00 price objective for the company in a report on Wednesday, May 3rd. Royal Bank Of Canada restated a "hold" rating and set a $56.00 price objective on shares of Amedisys in a report on Monday, June 5th. Finally, Stephens boosted their price objective on Amedisys from $50.00 to $54.00 and gave the company an "equal weight" rating in a report on Thursday, May 4th. Five investment analysts have rated the stock with a hold rating and five have issued a buy rating to the company's stock. Amedisys presently has a consensus rating of "Buy" and an average price target of $56.50.
About Amedisys
Amedisys, Inc is a healthcare services company. The Company's segments are Home Health, Hospice, Personal Care and Other. The Company is a provider of home health, hospice and personal care services. As of December 31, 2016, the Company owned and operated 327 Medicare-certified home healthcare centers, 79 Medicare-certified hospice care centers and 14 personal-care care centers in 34 states within the United States and the District of Columbia.
Receive News & Ratings for Amedisys Inc Daily - Enter your email address below to receive a concise daily summary of the latest news and analysts' ratings for Amedisys Inc and related companies with MarketBeat.com's FREE daily email newsletter.