AstraZeneca plc to Issue Dividend of GBX 68.90 (AZN)

AstraZeneca plc (LON:AZN) declared a dividend on Thursday, July 27th, Upcoming.Co.Uk reports. Stockholders of record on Thursday, August 10th will be given a dividend of GBX 68.90 ($0.90) per share by the biopharmaceutical company on Monday, September 11th. This represents a dividend yield of 1.35%. The ex-dividend date is Thursday, August 10th. The official announcement can be accessed at this link.
AstraZeneca plc (AZN) traded down 15.59% on Thursday, hitting GBX 4316.00. The stock had a trading volume of 8,270,622 shares. AstraZeneca plc has a 1-year low of GBX 3,996.00 and a 1-year high of GBX 5,520.00. The firm's 50-day moving average price is GBX 5,211.86 and its 200-day moving average price is GBX 4,860.16. The firm's market cap is GBX 54.64 billion.
A number of equities research analysts recently weighed in on AZN shares. Morgan Stanley reaffirmed an "overweight" rating and set a GBX 5,600 ($72.95) price target on shares of AstraZeneca plc in a report on Friday, June 23rd. Deutsche Bank AG reaffirmed a "buy" rating on shares of AstraZeneca plc in a report on Monday, May 22nd. Shore Capital reaffirmed a "sell" rating on shares of AstraZeneca plc in a report on Thursday, May 4th. Beaufort Securities reaffirmed a "hold" rating on shares of AstraZeneca plc in a report on Monday, April 3rd. Finally, Goldman Sachs Group, Inc. (The) set a GBX 3,900 ($50.81) price target on AstraZeneca plc and gave the company a "sell" rating in a report on Wednesday, March 29th. Three equities research analysts have rated the stock with a sell rating, nine have issued a hold rating and nine have issued a buy rating to the company's stock. The stock has an average rating of "Hold" and an average target price of GBX 5,251.80 ($68.42).
ILLEGAL ACTIVITY NOTICE: This report was reported by American Banking News and is the property of of American Banking News. If you are reading this report on another website, it was illegally stolen and republished in violation of U.S. & international copyright law. The correct version of this report can be read at https://www.americanbankingnews.com/2017/07/27/astrazeneca-plc-to-issue-dividend-of-gbx-68-90-azn.html.
About AstraZeneca plc
AstraZeneca PLC (AstraZeneca) is a biopharmaceutical company. The Company focuses on discovery and development of products, which are then manufactured, marketed and sold. The Company focuses on three main therapy areas: Oncology, Cardiovascular & Metabolic Disease (CVMD) and Respiratory, while selectively pursuing therapies in Autoimmunity, Infection and Neuroscience.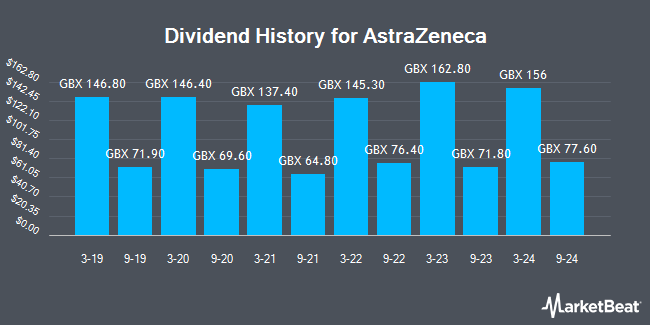 Receive News & Ratings for AstraZeneca plc Daily - Enter your email address below to receive a concise daily summary of the latest news and analysts' ratings for AstraZeneca plc and related companies with MarketBeat.com's FREE daily email newsletter.