Bel Fuse Inc. (NASDAQ:BELFB) to Release Earnings on Thursday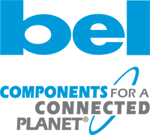 Bel Fuse Inc. (NASDAQ:BELFB) is scheduled to be posting its quarterly earnings results before the market opens on Thursday, August 3rd.
Bel Fuse (NASDAQ:BELFB) last announced its quarterly earnings results on Wednesday, May 3rd. The electronics maker reported $0.07 earnings per share (EPS) for the quarter, missing the consensus estimate of $0.29 by $0.22. Bel Fuse had a net margin of 7.43% and a return on equity of 11.47%. The company had revenue of $113.67 million during the quarter. On average, analysts expect Bel Fuse to post $0 EPS for the current fiscal year and $0 EPS for the next fiscal year.
Shares of Bel Fuse Inc. (BELFB) opened at 25.15 on Thursday. The firm has a market capitalization of $302.13 million, a P/E ratio of 8.22 and a beta of 0.85. Bel Fuse Inc. has a one year low of $19.19 and a one year high of $33.60. The company has a 50-day moving average price of $25.27 and a 200 day moving average price of $25.99.
The business also recently disclosed a quarterly dividend, which will be paid on Tuesday, August 1st. Stockholders of record on Friday, July 14th will be issued a dividend of $0.07 per share. The ex-dividend date is Wednesday, July 12th. This represents a $0.28 annualized dividend and a dividend yield of 1.11%. Bel Fuse's payout ratio is 9.24%.
ILLEGAL ACTIVITY NOTICE: This report was originally published by American Banking News and is the sole property of of American Banking News. If you are reading this report on another domain, it was illegally stolen and republished in violation of international copyright & trademark laws. The legal version of this report can be viewed at https://www.americanbankingnews.com/2017/07/27/bel-fuse-inc-nasdaqbelfb-to-release-earnings-on-thursday.html.
About Bel Fuse
Bel Fuse Inc (Bel) designs, manufactures and markets a range of products that power, protect and connect electronic circuits. The Company's products include magnetic solutions, power solutions and protection, and connectivity solutions. The Company's operating segments are North America, Asia and Europe.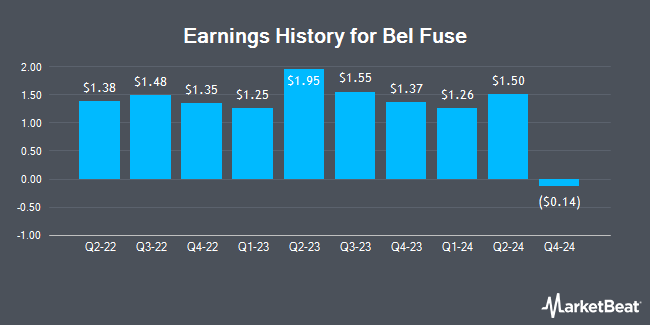 Receive News & Ratings for Bel Fuse Inc. Daily - Enter your email address below to receive a concise daily summary of the latest news and analysts' ratings for Bel Fuse Inc. and related companies with MarketBeat.com's FREE daily email newsletter.