MiMedx Group, Inc (MDXG) Announces Earnings Results, Hits Expectations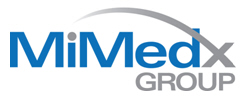 MiMedx Group, Inc (NASDAQ:MDXG) released its earnings results on Wednesday. The medical equipment provider reported $0.07 earnings per share for the quarter, hitting the Zacks' consensus estimate of $0.07, Bloomberg Earnings reports. The company had revenue of $76.40 million during the quarter, compared to the consensus estimate of $74.22 million. MiMedx Group had a return on equity of 12.25% and a net margin of 5.72%. MiMedx Group's quarterly revenue was up 33.3% compared to the same quarter last year. During the same quarter in the previous year, the company posted $0.05 EPS. MiMedx Group updated its FY17 guidance to $0.31-0.33 EPS.
Shares of MiMedx Group (NASDAQ:MDXG) traded down 2.05% during trading on Thursday, reaching $14.35. The company's stock had a trading volume of 1,817,481 shares. The company has a 50 day moving average of $15.00 and a 200-day moving average of $11.47. MiMedx Group has a 12-month low of $6.94 and a 12-month high of $16.20. The stock has a market cap of $1.52 billion, a price-to-earnings ratio of 102.50 and a beta of 1.04.
COPYRIGHT VIOLATION NOTICE: "MiMedx Group, Inc (MDXG) Announces Earnings Results, Hits Expectations" was originally published by American Banking News and is owned by of American Banking News. If you are reading this article on another site, it was copied illegally and republished in violation of US and international copyright & trademark laws. The correct version of this article can be read at https://www.americanbankingnews.com/2017/07/27/mimedx-group-inc-mdxg-announces-earnings-results-hits-expectations.html.
MiMedx Group declared that its Board of Directors has approved a share buyback program on Wednesday, July 26th that authorizes the company to repurchase $14.00 million in outstanding shares. This repurchase authorization authorizes the medical equipment provider to purchase up to 0.9% of its shares through open market purchases. Shares repurchase programs are often a sign that the company's board of directors believes its shares are undervalued.
In related news, insider William Charles Taylor sold 26,571 shares of the stock in a transaction that occurred on Thursday, May 25th. The stock was sold at an average price of $13.74, for a total transaction of $365,085.54. Following the completion of the transaction, the insider now directly owns 533,612 shares of the company's stock, valued at $7,331,828.88. The sale was disclosed in a filing with the SEC, which is available through this link. 12.40% of the stock is currently owned by corporate insiders.
A number of research firms recently weighed in on MDXG. BidaskClub upgraded MiMedx Group from a "hold" rating to a "buy" rating in a research report on Saturday, June 24th. Needham & Company LLC restated a "buy" rating and issued a $20.00 target price (up previously from $15.00) on shares of MiMedx Group in a research report on Monday, June 26th. Finally, First Analysis downgraded MiMedx Group from an "equal weight" rating to an "underweight" rating and set a $11.00 target price for the company. in a research report on Tuesday, May 23rd. Two investment analysts have rated the stock with a sell rating, two have given a hold rating and three have assigned a buy rating to the company's stock. The stock presently has an average rating of "Hold" and a consensus price target of $12.40.
MiMedx Group Company Profile
MiMedx Group, Inc is an integrated developer, processor and marketer of regenerative biomaterial products and bioimplants human placental tissue, skin and bone. The Company's Regenerative Biomaterials segment includes the design, manufacture, and marketing of products and tissue processing services for the Wound Care, Surgical, Sports Medicine, Ophthalmic and Dental market categories.
Receive News & Ratings for MiMedx Group Inc Daily - Enter your email address below to receive a concise daily summary of the latest news and analysts' ratings for MiMedx Group Inc and related companies with MarketBeat.com's FREE daily email newsletter.