National Retail Properties (NYSE:NNN) Scheduled to Post Quarterly Earnings on Tuesday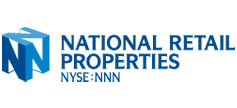 National Retail Properties (NYSE:NNN) will be issuing its quarterly earnings data before the market opens on Tuesday, August 1st. Analysts expect the company to announce earnings of $0.62 per share for the quarter. National Retail Properties has set its FY17 guidance at $2.48-2.52 EPS.
National Retail Properties (NYSE:NNN) last announced its quarterly earnings data on Tuesday, May 2nd. The real estate investment trust reported $0.60 EPS for the quarter, beating analysts' consensus estimates of $0.33 by $0.27. National Retail Properties had a return on equity of 8.07% and a net margin of 44.24%. The company had revenue of $141.43 million during the quarter, compared to the consensus estimate of $141.51 million. During the same quarter in the prior year, the firm earned $0.58 EPS. The company's quarterly revenue was up 11.4% compared to the same quarter last year. On average, analysts expect National Retail Properties to post $2.49 EPS for the current fiscal year and $2.62 EPS for the next fiscal year.
Shares of National Retail Properties (NNN) traded up 1.78% during midday trading on Thursday, hitting $40.79. The stock had a trading volume of 523,485 shares. The stock has a 50-day moving average of $39.02 and a 200 day moving average of $41.86. The stock has a market cap of $6.08 billion, a PE ratio of 31.55 and a beta of 0.38. National Retail Properties has a 52 week low of $36.45 and a 52 week high of $53.60.
The firm also recently disclosed a quarterly dividend, which will be paid on Tuesday, August 15th. Shareholders of record on Monday, July 31st will be paid a $0.475 dividend. The ex-dividend date of this dividend is Thursday, July 27th. This is a boost from National Retail Properties's previous quarterly dividend of $0.46. This represents a $1.90 dividend on an annualized basis and a yield of 4.69%. National Retail Properties's dividend payout ratio (DPR) is presently 140.00%.
ILLEGAL ACTIVITY NOTICE: This report was originally posted by American Banking News and is the sole property of of American Banking News. If you are accessing this report on another domain, it was illegally copied and reposted in violation of US & international copyright & trademark law. The correct version of this report can be accessed at https://www.americanbankingnews.com/2017/07/27/national-retail-properties-nysennn-scheduled-to-post-quarterly-earnings-on-tuesday.html.
Separately, BidaskClub raised shares of National Retail Properties from a "strong sell" rating to a "sell" rating in a research report on Wednesday, June 14th. Three investment analysts have rated the stock with a sell rating, three have given a hold rating and four have issued a buy rating to the company. The stock presently has a consensus rating of "Hold" and an average target price of $50.50.
About National Retail Properties
National Retail Properties, Inc is a real estate investment trust (REIT). The Company acquires, owns, invests in and develops properties that are leased primarily to retail tenants under long-term net leases and are primarily held for investment. As of December 31, 2016, it owned 2,535 properties with an aggregate gross leasable area of approximately 27,204,000 square feet, located in 48 states.
Receive News & Ratings for National Retail Properties Daily - Enter your email address below to receive a concise daily summary of the latest news and analysts' ratings for National Retail Properties and related companies with MarketBeat.com's FREE daily email newsletter.