NuVasive, Inc. (NASDAQ:NUVA) Releases FY17 Earnings Guidance

NuVasive, Inc. (NASDAQ:NUVA) issued an update on its FY17 earnings guidance on Thursday morning. The company provided earnings per share (EPS) guidance of $2.00 for the period, compared to the Thomson Reuters consensus estimate of $2.01. The company issued revenue guidance of $1.065 billion, compared to the consensus revenue estimate of $1.07 billion.
NuVasive, Inc. (NUVA) traded down 3.22% on Thursday, hitting $76.90. 1,792,588 shares of the company's stock were exchanged. The company's 50-day moving average price is $77.98 and its 200-day moving average price is $74.45. The company has a market cap of $3.90 billion, a PE ratio of 80.69 and a beta of 1.08. NuVasive, Inc. has a 12-month low of $56.70 and a 12-month high of $81.68.
NuVasive (NASDAQ:NUVA) last announced its quarterly earnings data on Thursday, July 27th. The medical device company reported $0.46 EPS for the quarter, topping the Zacks' consensus estimate of $0.44 by $0.02. The company had revenue of $260.60 million during the quarter, compared to the consensus estimate of $261.95 million. NuVasive had a net margin of 5.35% and a return on equity of 12.63%. NuVasive's quarterly revenue was up 10.3% on a year-over-year basis. During the same quarter in the prior year, the firm earned $0.40 EPS. Analysts forecast that NuVasive, Inc. will post $2.01 earnings per share for the current year.
A number of equities analysts have commented on the stock. BidaskClub upgraded shares of NuVasive from a hold rating to a buy rating in a research report on Wednesday, July 19th. Morgan Stanley reaffirmed an equal weight rating and set a $88.00 price target (up from $84.00) on shares of NuVasive in a research note on Tuesday. Royal Bank Of Canada reaffirmed a buy rating and set a $85.00 price target on shares of NuVasive in a research note on Thursday, July 20th. Piper Jaffray Companies reaffirmed an overweight rating and set a $90.00 price target on shares of NuVasive in a research note on Wednesday, July 5th. Finally, Cowen and Company reaffirmed an outperform rating and set a $85.00 price target on shares of NuVasive in a research note on Monday, May 15th. Three equities research analysts have rated the stock with a hold rating and eleven have assigned a buy rating to the company's stock. The company presently has a consensus rating of Buy and an average target price of $81.58.
TRADEMARK VIOLATION NOTICE: This news story was first reported by American Banking News and is the property of of American Banking News. If you are accessing this news story on another publication, it was copied illegally and reposted in violation of U.S. and international trademark and copyright laws. The legal version of this news story can be read at https://www.americanbankingnews.com/2017/07/27/nuvasive-inc-nasdaqnuva-releases-fy17-earnings-guidance.html.
About NuVasive
Nuvasive, Inc is a medical device company. The Company focuses on developing minimally-disruptive surgical products and procedurally-integrated solutions for the spine surgery. Its product portfolio focuses on applications for spine fusion surgery, including biologics used to aid in the spinal fusion process.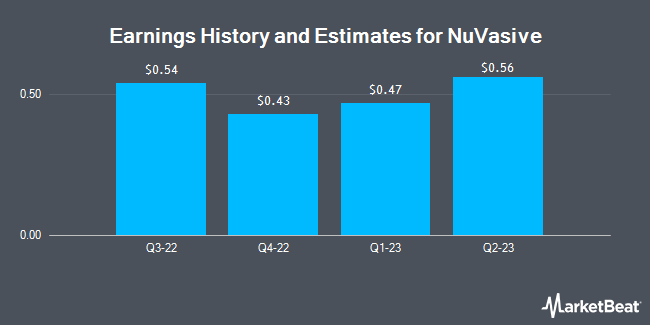 Receive News & Ratings for NuVasive Inc. Daily - Enter your email address below to receive a concise daily summary of the latest news and analysts' ratings for NuVasive Inc. and related companies with MarketBeat.com's FREE daily email newsletter.