Codorus Valley Bancorp, Inc (NASDAQ:CVLY) Director Sells $111,545.39 in Stock
Codorus Valley Bancorp, Inc (NASDAQ:CVLY) Director Macgregor S. Jones sold 3,971 shares of the stock in a transaction that occurred on Tuesday, August 1st. The stock was sold at an average price of $28.09, for a total transaction of $111,545.39. Following the completion of the transaction, the director now owns 27,763 shares in the company, valued at approximately $779,862.67. The sale was disclosed in a filing with the SEC, which can be accessed through the SEC website.
Shares of Codorus Valley Bancorp, Inc (CVLY) traded down 0.61% during trading on Wednesday, hitting $27.70. 8,706 shares of the stock traded hands. The firm has a market cap of $233.76 million, a price-to-earnings ratio of 16.39 and a beta of 0.54. Codorus Valley Bancorp, Inc has a 52-week low of $19.99 and a 52-week high of $29.56. The stock has a 50 day moving average of $27.80 and a 200 day moving average of $26.92.
Codorus Valley Bancorp (NASDAQ:CVLY) last issued its earnings results on Thursday, July 20th. The financial services provider reported $0.43 EPS for the quarter. The firm had revenue of $17.47 million for the quarter. Codorus Valley Bancorp had a return on equity of 9.19% and a net margin of 18.78%.
The business also recently declared a quarterly dividend, which will be paid on Tuesday, August 8th. Shareholders of record on Tuesday, July 25th will be issued a $0.135 dividend. This represents a $0.54 dividend on an annualized basis and a yield of 1.94%. The ex-dividend date is Friday, July 21st. Codorus Valley Bancorp's payout ratio is presently 32.32%.
COPYRIGHT VIOLATION NOTICE: "Codorus Valley Bancorp, Inc (NASDAQ:CVLY) Director Sells $111,545.39 in Stock" was published by American Banking News and is the sole property of of American Banking News. If you are accessing this piece of content on another publication, it was stolen and reposted in violation of United States and international trademark & copyright laws. The correct version of this piece of content can be read at https://www.americanbankingnews.com/2017/08/02/codorus-valley-bancorp-inc-nasdaqcvly-director-sells-111545-39-in-stock.html.
A hedge fund recently raised its stake in Codorus Valley Bancorp stock. Rhumbline Advisers increased its position in shares of Codorus Valley Bancorp, Inc (NASDAQ:CVLY) by 5.3% during the second quarter, according to its most recent Form 13F filing with the Securities and Exchange Commission. The fund owned 8,763 shares of the financial services provider's stock after buying an additional 440 shares during the period. Rhumbline Advisers owned about 0.10% of Codorus Valley Bancorp worth $249,000 at the end of the most recent reporting period. 52.18% of the stock is currently owned by hedge funds and other institutional investors.
About Codorus Valley Bancorp
Codorus Valley Bancorp, Inc is a bank holding company. The Company provides a range of banking services through its subsidiary, PeoplesBank, A Codorus Valley Company (PeoplesBank). The Company operates through the community banking segment. PeoplesBank is a chartered bank that offers a range of business and consumer banking services.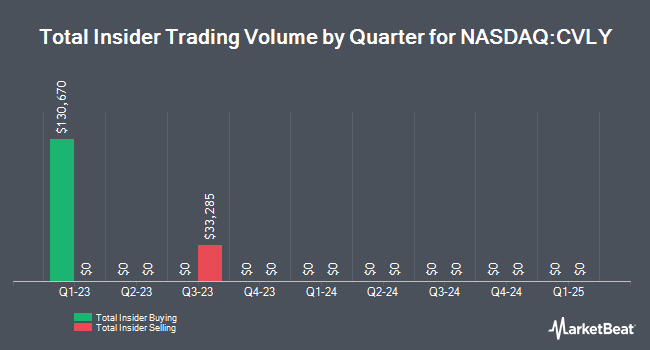 Receive News & Ratings for Codorus Valley Bancorp Inc Daily - Enter your email address below to receive a concise daily summary of the latest news and analysts' ratings for Codorus Valley Bancorp Inc and related companies with MarketBeat.com's FREE daily email newsletter.