Aecon Group Inc (TSE:ARE) Receives Average Recommendation of "Buy" from Brokerages
Shares of Aecon Group Inc (TSE:ARE) have been assigned an average recommendation of "Buy" from the nine analysts that are currently covering the company, Marketbeat.com reports. One analyst has rated the stock with a hold rating and four have issued a buy rating on the company. The average twelve-month price objective among brokers that have issued ratings on the stock in the last year is C$19.43.
ARE has been the subject of several analyst reports. TD Securities upped their target price on shares of Aecon Group from C$19.50 to C$20.00 and gave the company a "buy" rating in a research note on Monday. Royal Bank Of Canada restated a "sector perform" rating on shares of Aecon Group in a research note on Tuesday, May 9th.
In related news, Director Jenah Susan Wolburgh acquired 2,000 shares of Aecon Group stock in a transaction on Friday, May 19th. The shares were purchased at an average cost of C$15.20 per share, for a total transaction of C$30,400.00.
Aecon Group (TSE ARE) traded down 1.02% during midday trading on Friday, hitting $14.62. 248,264 shares of the stock traded hands. The company's 50-day moving average is $15.72 and its 200-day moving average is $16.10. Aecon Group has a one year low of $13.07 and a one year high of $19.19. The company has a market cap of $858.76 million and a PE ratio of 21.92.
ILLEGAL ACTIVITY WARNING: This news story was originally reported by American Banking News and is the sole property of of American Banking News. If you are reading this news story on another domain, it was stolen and republished in violation of United States and international copyright & trademark laws. The correct version of this news story can be viewed at https://www.americanbankingnews.com/2017/08/04/aecon-group-inc-tseare-receives-average-recommendation-of-buy-from-brokerages.html.
Aecon Group Company Profile
Aecon Group Inc is a Canada-based construction and infrastructure development company. It operates through four segments: Infrastructure, Energy, Mining and Concessions. The Infrastructure segment includes all aspects of the construction of both public and private infrastructure in Canada, and on a selected basis, internationally.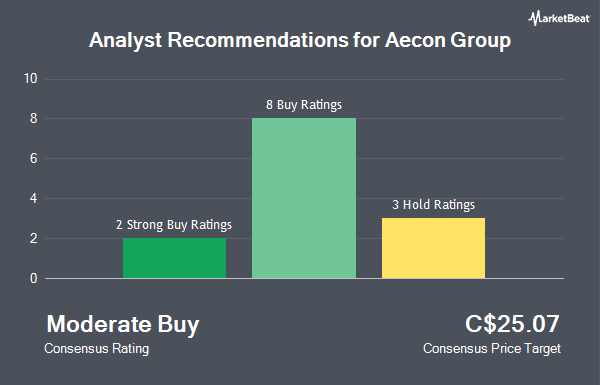 Receive News & Ratings for Aecon Group Inc Daily - Enter your email address below to receive a concise daily summary of the latest news and analysts' ratings for Aecon Group Inc and related companies with MarketBeat.com's FREE daily email newsletter.