Belmond Ltd. (BEL) Announces Quarterly Earnings Results, Beats Estimates By $0.07 EPS
Belmond Ltd. (NYSE:BEL) posted its quarterly earnings data on Monday. The company reported $0.19 earnings per share (EPS) for the quarter, topping the consensus estimate of $0.12 by $0.07, Bloomberg Earnings reports. Belmond had a net margin of 3.61% and a return on equity of 1.74%.
Shares of Belmond (NYSE BEL) remained flat at $13.10 during mid-day trading on Monday. 233,865 shares of the stock traded hands. Belmond has a one year low of $10.86 and a one year high of $14.45. The stock has a market capitalization of $1.34 billion, a price-to-earnings ratio of 69.31 and a beta of 0.93. The firm's 50 day moving average price is $13.13 and its 200 day moving average price is $12.85.
BEL has been the topic of several research reports. Zacks Investment Research upgraded shares of Belmond from a "sell" rating to a "hold" rating in a report on Tuesday, May 2nd. BidaskClub upgraded shares of Belmond from a "sell" rating to a "hold" rating in a report on Thursday, June 29th. Finally, Telsey Advisory Group upgraded shares of Belmond from a "market perform" rating to an "outperform" rating and boosted their price objective for the stock from $14.00 to $16.00 in a report on Tuesday, June 6th. One investment analyst has rated the stock with a sell rating, four have assigned a hold rating and two have given a buy rating to the company. Belmond currently has an average rating of "Hold" and a consensus price target of $14.60.
TRADEMARK VIOLATION NOTICE: This article was first reported by American Banking News and is owned by of American Banking News. If you are accessing this article on another website, it was illegally copied and reposted in violation of United States and international copyright law. The legal version of this article can be read at https://www.americanbankingnews.com/2017/08/07/belmond-ltd-bel-announces-quarterly-earnings-results-beats-estimates-by-0-07-eps.html.
Belmond Company Profile
Belmond Ltd. (Belmond) is a hotel company and adventure travel operator. As of December 31, 2016, Belmond owned, partially-owned and/or operated 45 properties, consisting of 34 individual deluxe hotels, 29 of which are owned (including nine under long-term lease), five European tourist trains, two cruise ships in Myanmar (one of which is under long-term charter), one French canal cruise business consisting of five small canal boats, and one stand-alone restaurant in the United States.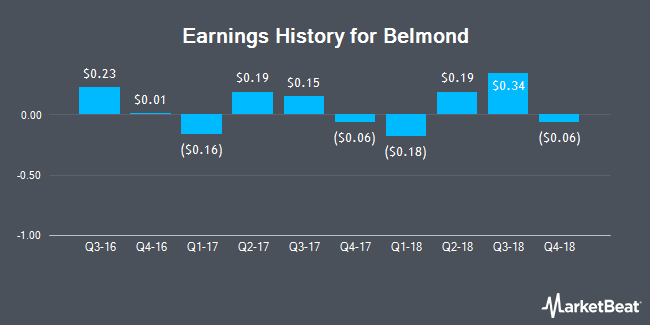 Receive News & Ratings for Belmond Ltd. Daily - Enter your email address below to receive a concise daily summary of the latest news and analysts' ratings for Belmond Ltd. and related companies with MarketBeat.com's FREE daily email newsletter.