BWX Technologies, Inc. (BWXT) Posts Quarterly Earnings Results, Beats Estimates By $0.09 EPS
BWX Technologies, Inc. (NYSE:BWXT) announced its earnings results on Monday. The technology company reported $0.56 earnings per share for the quarter, topping the Thomson Reuters' consensus estimate of $0.47 by $0.09, Bloomberg Earnings reports. The business had revenue of $410.01 million during the quarter, compared to the consensus estimate of $429.38 million. BWX Technologies had a return on equity of 98.16% and a net margin of 11.63%. The business's quarterly revenue was up 1.9% on a year-over-year basis. During the same period in the prior year, the company posted $0.44 EPS.
Shares of BWX Technologies (NYSE:BWXT) traded down 0.13% during mid-day trading on Monday, hitting $52.99. The company had a trading volume of 886,006 shares. The firm has a 50-day moving average price of $49.51 and a 200 day moving average price of $47.21. The firm has a market capitalization of $5.25 billion, a P/E ratio of 28.85 and a beta of 0.45. BWX Technologies has a 12 month low of $36.16 and a 12 month high of $53.60.
TRADEMARK VIOLATION NOTICE: This piece was originally published by American Banking News and is the sole property of of American Banking News. If you are accessing this piece on another publication, it was illegally stolen and republished in violation of U.S. & international copyright & trademark legislation. The correct version of this piece can be viewed at https://www.americanbankingnews.com/2017/08/07/bwx-technologies-inc-bwxt-posts-quarterly-earnings-results-beats-estimates-by-0-09-eps.html.
In related news, insider Harbour Group L.P. Blue sold 3,295,098 shares of BWX Technologies stock in a transaction on Wednesday, June 7th. The stock was sold at an average price of $47.43, for a total transaction of $156,286,498.14. The sale was disclosed in a legal filing with the Securities & Exchange Commission, which can be accessed through this link. Insiders own 0.76% of the company's stock.
Several research analysts have recently weighed in on the company. BidaskClub raised BWX Technologies from a "buy" rating to a "strong-buy" rating in a research note on Tuesday, July 25th. Sidoti reaffirmed a "buy" rating and set a $62.00 target price on shares of BWX Technologies in a research note on Wednesday, May 31st. Credit Suisse Group assumed coverage on BWX Technologies in a research note on Friday, June 9th. They set a "neutral" rating and a $51.00 target price for the company. Finally, Zacks Investment Research downgraded BWX Technologies from a "buy" rating to a "hold" rating in a research note on Tuesday, July 4th. Two investment analysts have rated the stock with a hold rating, four have given a buy rating and one has assigned a strong buy rating to the company's stock. The stock has an average rating of "Buy" and a consensus price target of $51.50.
BWX Technologies Company Profile
BWX Technologies, Inc is a manufacturer of nuclear components and a service provider. The Company's businesses focus on the design, engineering and manufacture of precision naval nuclear components, reactors and nuclear fuel for the United States Government. Its segments include Nuclear Operations, Technical Services, Nuclear Energy and Other.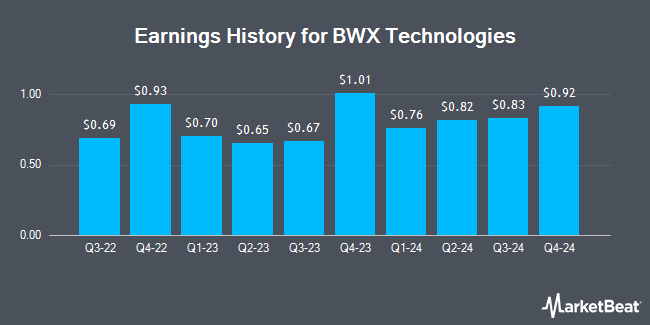 Receive News & Ratings for BWX Technologies Inc. Daily - Enter your email address below to receive a concise daily summary of the latest news and analysts' ratings for BWX Technologies Inc. and related companies with MarketBeat.com's FREE daily email newsletter.