Invacare Corporation (NYSE:IVC) Announces Quarterly Earnings Results
Invacare Corporation (NYSE:IVC) announced its quarterly earnings data on Monday. The health services provider reported ($0.63) earnings per share for the quarter, missing the consensus estimate of ($0.42) by $0.21, RTT News reports. Invacare Corporation had a negative net margin of 4.99% and a negative return on equity of 10.12%. The firm had revenue of $233.50 million for the quarter, compared to the consensus estimate of $243.03 million. During the same period last year, the company posted ($0.33) earnings per share. Invacare Corporation's revenue for the quarter was down 15.1% on a year-over-year basis.
Invacare Corporation (IVC) traded down 3.61% during trading on Monday, hitting $14.70. The stock had a trading volume of 630,555 shares. The company has a 50-day moving average price of $13.32 and a 200-day moving average price of $12.75. Invacare Corporation has a 52-week low of $8.00 and a 52-week high of $16.65. The company's market cap is $481.91 million.
The business also recently declared a quarterly dividend, which was paid on Friday, July 14th. Stockholders of record on Monday, July 3rd were issued a $0.0125 dividend. This represents a $0.05 dividend on an annualized basis and a dividend yield of 0.34%. The ex-dividend date was Thursday, June 29th. Invacare Corporation's payout ratio is currently -3.18%.
In other news, Director Dale C. Laporte sold 2,737 shares of the business's stock in a transaction on Tuesday, May 16th. The shares were sold at an average price of $14.95, for a total transaction of $40,918.15. The sale was disclosed in a filing with the Securities & Exchange Commission, which is accessible through this hyperlink. Insiders own 3.20% of the company's stock.
IVC has been the subject of a number of analyst reports. Zacks Investment Research raised Invacare Corporation from a "sell" rating to a "hold" rating in a report on Tuesday, April 11th. Stephens raised Invacare Corporation from an "equal weight" rating to an "overweight" rating in a report on Friday, April 28th. ValuEngine raised Invacare Corporation from a "sell" rating to a "hold" rating in a report on Friday, June 2nd. Sidoti reaffirmed a "neutral" rating and issued a $12.00 price target (down from $14.00) on shares of Invacare Corporation in a report on Monday, June 12th. Finally, BidaskClub lowered Invacare Corporation from a "hold" rating to a "sell" rating in a report on Monday, July 24th. Two analysts have rated the stock with a sell rating, two have issued a hold rating and two have given a buy rating to the company. The company presently has a consensus rating of "Hold" and an average target price of $14.50.
ILLEGAL ACTIVITY NOTICE: This piece was originally reported by American Banking News and is the property of of American Banking News. If you are reading this piece on another publication, it was stolen and republished in violation of U.S. & international trademark & copyright laws. The correct version of this piece can be viewed at https://www.americanbankingnews.com/2017/08/07/invacare-corporation-nyseivc-announces-quarterly-earnings-results.html.
About Invacare Corporation
Invacare Corporation is a manufacturer and distributor for medical equipment used in non-acute care settings. The Company's geographical segments are Europe; North America, which includes North America/Home Medical Equipment (North America/HME) and Institutional Products Group (IPG) segments, and Asia/Pacific.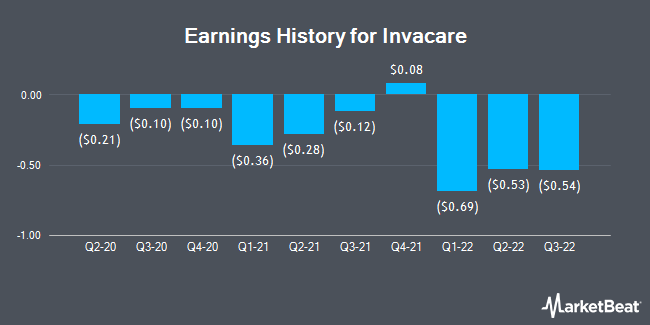 Receive News & Ratings for Invacare Corporation Daily - Enter your email address below to receive a concise daily summary of the latest news and analysts' ratings for Invacare Corporation and related companies with MarketBeat.com's FREE daily email newsletter.