Sykes Enterprises, Incorporated (SYKE) Issues FY17 Earnings Guidance
Sykes Enterprises, Incorporated (NASDAQ:SYKE) issued an update on its FY17 earnings guidance on Monday morning. The company provided EPS guidance of $1.77-1.83 for the period, compared to the Thomson Reuters consensus EPS estimate of $2.10. The company issued revenue guidance of $1.56-1.57 billion, compared to the consensus revenue estimate of $1.59 billion.Sykes Enterprises, also updated its Q2 guidance to $0.42-0.45 EPS.
Sykes Enterprises, Incorporated (NASDAQ:SYKE) remained flat at $33.43 during mid-day trading on Monday. 112,164 shares of the company's stock were exchanged. The firm has a 50 day moving average of $33.74 and a 200 day moving average of $30.73. Sykes Enterprises, Incorporated has a 12 month low of $25.77 and a 12 month high of $34.49. The firm has a market capitalization of $1.39 billion, a price-to-earnings ratio of 20.91 and a beta of 0.75.
Sykes Enterprises, (NASDAQ:SYKE) last announced its quarterly earnings data on Monday, May 8th. The information technology services provider reported $0.54 EPS for the quarter, topping the Zacks' consensus estimate of $0.40 by $0.14. The company had revenue of $384.01 million during the quarter, compared to the consensus estimate of $400.15 million. Sykes Enterprises, had a net margin of 4.41% and a return on equity of 11.39%. Sykes Enterprises,'s quarterly revenue was up 19.7% on a year-over-year basis. During the same quarter in the prior year, the firm earned $0.42 EPS. On average, analysts predict that Sykes Enterprises, Incorporated will post $2.10 earnings per share for the current fiscal year.
Separately, Zacks Investment Research upgraded shares of Sykes Enterprises, from a hold rating to a buy rating and set a $33.00 price objective for the company in a research report on Wednesday, May 3rd.
In other news, insider Jenna Nelson sold 3,672 shares of the stock in a transaction dated Friday, June 2nd. The shares were sold at an average price of $33.99, for a total value of $124,811.28. Following the completion of the transaction, the insider now owns 14,520 shares in the company, valued at approximately $493,534.80. The sale was disclosed in a legal filing with the Securities & Exchange Commission, which is accessible through the SEC website. Also, Director Paul L. Whiting sold 14,164 shares of the stock in a transaction dated Monday, May 15th. The shares were sold at an average price of $32.75, for a total transaction of $463,871.00. The disclosure for this sale can be found here. In the last 90 days, insiders have sold 20,336 shares of company stock valued at $671,182. 2.70% of the stock is owned by insiders.
COPYRIGHT VIOLATION WARNING: This news story was originally published by American Banking News and is owned by of American Banking News. If you are viewing this news story on another website, it was illegally stolen and republished in violation of United States & international trademark and copyright law. The legal version of this news story can be viewed at https://www.americanbankingnews.com/2017/08/07/sykes-enterprises-incorporated-syke-issues-fy17-earnings-guidance.html.
Sykes Enterprises, Company Profile
Sykes Enterprises, Incorporated is engaged in providing outsourced customer contact management solutions and services in the business process outsourcing (BPO) arena on a global basis. The Company has operations in two segments: the Americas, which includes the United States, Canada, Latin America, Australia and the Asia Pacific Rim, and EMEA, which includes Europe, the Middle East and Africa.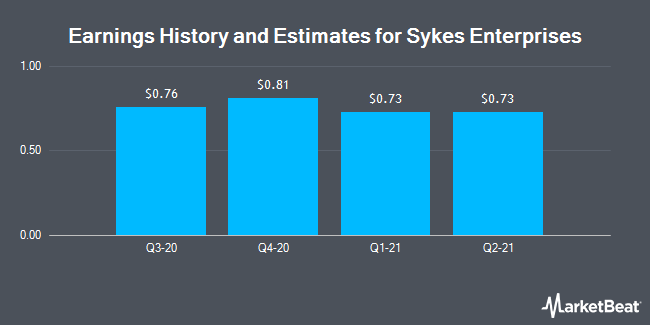 Receive News & Ratings for Sykes Enterprises Incorporated Daily - Enter your email address below to receive a concise daily summary of the latest news and analysts' ratings for Sykes Enterprises Incorporated and related companies with MarketBeat.com's FREE daily email newsletter.