AECOM (NYSE:ACM) Releases FY17 Earnings Guidance
AECOM (NYSE:ACM) updated its FY17 earnings guidance on Tuesday. The company provided earnings per share (EPS) guidance of $2.80-3.20 for the period, compared to the Thomson Reuters consensus estimate of $2.95.
A number of analysts have commented on the company. Zacks Investment Research cut AECOM from a buy rating to a hold rating in a research report on Friday, April 21st. Deutsche Bank AG restated a hold rating and issued a $38.00 price target (down previously from $41.00) on shares of AECOM in a research report on Saturday, April 22nd. Robert W. Baird cut AECOM from an outperform rating to a neutral rating and set a $4.00 price target for the company. in a research report on Tuesday, July 4th. Argus reduced their price target on AECOM from $43.00 to $33.00 and set a buy rating for the company in a research report on Friday, June 2nd. Finally, Citigroup Inc. restated a buy rating and issued a $40.00 price target (down previously from $45.00) on shares of AECOM in a research report on Tuesday, July 18th. Two equities research analysts have rated the stock with a sell rating, five have assigned a hold rating and four have assigned a buy rating to the company's stock. AECOM presently has an average rating of Hold and an average price target of $35.30.
Shares of AECOM (NYSE:ACM) opened at 31.33 on Tuesday. The stock has a market cap of $4.88 billion, a PE ratio of 22.06 and a beta of 1.75. The company's 50 day moving average price is $32.37 and its 200 day moving average price is $34.32. AECOM has a 52-week low of $26.46 and a 52-week high of $40.72.
AECOM (NYSE:ACM) last announced its quarterly earnings results on Tuesday, August 8th. The construction company reported $0.78 earnings per share for the quarter, meeting the Thomson Reuters' consensus estimate of $0.78. AECOM had a return on equity of 12.40% and a net margin of 1.28%. The firm had revenue of $4.56 billion during the quarter, compared to analyst estimates of $4.54 billion. During the same quarter in the previous year, the business earned $0.81 EPS. AECOM's revenue for the quarter was up 3.5% compared to the same quarter last year. On average, analysts anticipate that AECOM will post $2.95 earnings per share for the current year.
ILLEGAL ACTIVITY WARNING: This report was first reported by American Banking News and is the property of of American Banking News. If you are viewing this report on another domain, it was copied illegally and reposted in violation of U.S. & international copyright law. The correct version of this report can be accessed at https://www.americanbankingnews.com/2017/08/08/aecom-nyseacm-releases-fy17-earnings-guidance.html.
AECOM Company Profile
AECOM is engaged in designing, building, financing and operating infrastructure assets for governments, businesses and organizations. The Company's segments include design and consulting services (DCS), construction services (CS) and management services (MS). Its DCS segment is engaged in planning, consulting, architectural and engineering design services to commercial and government clients in major end markets, such as transportation, facilities, environmental, energy, water and government.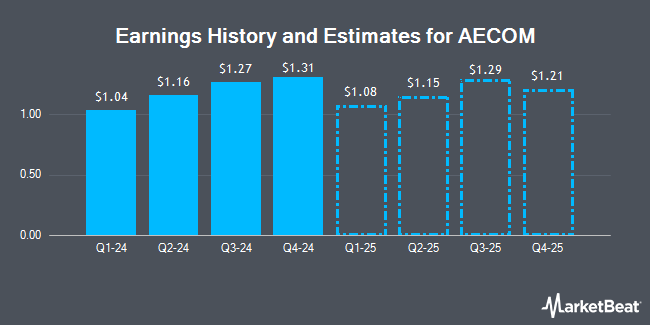 Receive News & Ratings for AECOM Daily - Enter your email address below to receive a concise daily summary of the latest news and analysts' ratings for AECOM and related companies with MarketBeat.com's FREE daily email newsletter.