Hallador Energy Company (HNRG) Posts Earnings Results, Misses Expectations By $0.13 EPS
Hallador Energy Company (NASDAQ:HNRG) announced its quarterly earnings data on Tuesday. The energy company reported $0.01 earnings per share for the quarter, missing the Zacks' consensus estimate of $0.14 by $0.13, MarketWatch Earnings reports. Hallador Energy had a return on equity of 13.69% and a net margin of 5.06%.
Hallador Energy (NASDAQ HNRG) traded down 0.15% during midday trading on Tuesday, reaching $6.61. 45,269 shares of the company were exchanged. The firm has a market capitalization of $194.98 million, a PE ratio of 14.46 and a beta of -0.61. The company has a 50-day moving average of $7.51 and a 200 day moving average of $7.98. Hallador Energy has a 52 week low of $5.19 and a 52 week high of $10.40.
The firm also recently disclosed a quarterly dividend, which will be paid on Friday, August 11th. Stockholders of record on Monday, July 31st will be issued a $0.04 dividend. The ex-dividend date is Thursday, July 27th. This represents a $0.16 dividend on an annualized basis and a dividend yield of 2.42%. Hallador Energy's payout ratio is 35.56%.
Separately, Zacks Investment Research lowered shares of Hallador Energy from a "buy" rating to a "sell" rating in a report on Wednesday, July 12th.
TRADEMARK VIOLATION WARNING: This story was posted by American Banking News and is the sole property of of American Banking News. If you are viewing this story on another site, it was illegally copied and reposted in violation of international copyright laws. The original version of this story can be viewed at https://www.americanbankingnews.com/2017/08/08/hallador-energy-company-hnrg-posts-earnings-results-misses-expectations-by-0-13-eps.html.
Hallador Energy Company Profile
Hallador Energy Company is an oil and gas exploration company focused on developing coal reserves in the Illinois Basin. The Company, through its subsidiary, Sunrise Coal, LLC, is engaged in coal mining in the state of Indiana serving the electric power generation industry. Its projects include Carlisle Mine, Ace in the Hole Mine, Oaktown 1 Mine, Oaktown 2 Mine and Bulldog Mine.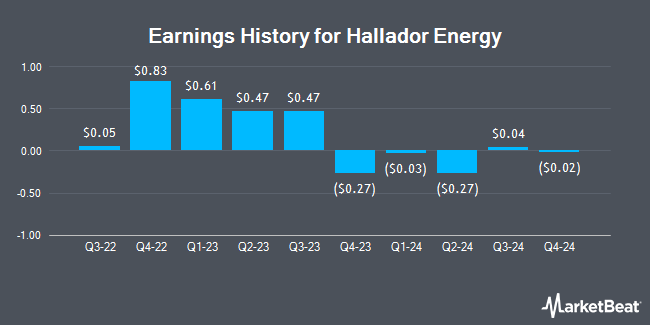 Receive News & Ratings for Hallador Energy Company Daily - Enter your email address below to receive a concise daily summary of the latest news and analysts' ratings for Hallador Energy Company and related companies with MarketBeat.com's FREE daily email newsletter.